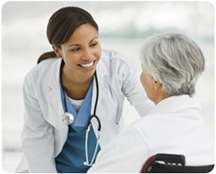 New York State offers free and low-cost public health insurance programs for low-income New Yorkers. Medical care is provided through a managed care plan or on a fee-for-service basis.
Individuals and families can qualify for public health insurance even if they have income, own a house, own a car, have a bank account or receive private health insurance. Persons and families who are receiving SSI or cash assistance are automatically (in PDF) eligible. Low-income pregnant women, children, non-elderly adults, persons over 65 and people with disabilities may also be eligible.
Programs include: Medicaid; Child Health Plus; Family Health Plus; Medicare Savings Plan (also known as Medicare Buy-In); Medicaid Buy-In Program for Working People with Disabilities and the Family Planning Benefit Program.
To obtain further details about these programs and services, or to apply, please visit any one of the Medical Assistance Program Offices.

If you are already receiving Medicaid or Family Health Plus, use these Medicaid Renewal Instructions (in PDF).
The Medical Information Privacy Notice (in PDF) details medical information privacy rights, access to information, and details concerning how medical information about you may be used and disclosed.
To find out if you would qualify for Medicaid, click on this link: Online Pre-screening for Public Health Insurance or see the table provided below:
Income and Resource Eligibility Levels for Public Health Insurance Programs:
If you have any questions about Medicare or Medicare Part D, or about choosing a Part D prescription drug plan or changing the one in which you were enrolled by Medicare, please go to 311 Online.
Learn more about Medicaid Offices 
If you are already, or would like to become an electronic submitter, go to the HRA Eligibility Data and Image Transfer System (EDITS).

Public Health Insurance in New York City is administered by the Medical Insurance and Community Services Administration's (MICSA)'s Medical Assistance Program (MAP). Initial eligibility is determined and reviewed for ongoing benefits based on financial and non-financial requirements applicable to individual  health insurance programs and their related services.
NOTE: Due to upcoming changes at the Federal and State level, Medicaid and its related programs  will be changing significantly later in 2013 and in 2014. Additional updates will be provided in the near future.