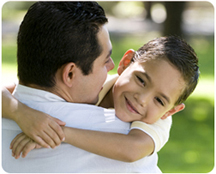 Child support ensures that children receive financial support from both parents. Traditionally focused on making sure that noncustodial parents (NCPs) provide financial support for their children, the program serves as a strong anti-poverty program, helping to keep families financially independent and working to eliminate the need for cash assistance.
HRA's Office of Child Support Enforcement (OCSE) serves custodial parents and guardians, as well as NCPs, regardless of income and immigration status. OCSE can help locate the NCP, establish paternity and child support and medical support orders, and collect and enforce those orders.
Parents and guardians applying for or receiving cash assistance are automatically referred to OCSE for child support services and are required to comply with child support in order to receive full cash benefits. People who are not receiving cash assistance may apply for services by visiting the OCSE office in the Family Court in the borough where they live. For an estimate of the amount of child support a noncustodial parent might owe, please use our child support calculator.
Without wavering from the mission to collect child support, OCSE is reaching out to its NCP clients to provide services that assist them in meeting their child support obligations.
For more information, contact the New York State Child Support Helpline at 888-208-4485. Other information related to OCSE is available through the HRA Infoline at 718-557-1399.