If your building owner fails to maintain your apartment and provide essential services, you may report the condition to the City's Customer Service Center at 311 (311 can be accessed outside of New York City by dialing (212) NEW YORK) or through 311 online. For the hearing impaired, the TTY number is (212) 504-4115. The Center is open 24-hours a day, seven days a week.

Owners of privately-owned buildings are required by law to maintain apartments in habitable condition and provide tenants with heat during the winter heat season (October 1 through May 31) and hot water 365 days a year. These standards are enforced by HPD's Division of Code Enforcement.

You can check for open complaints, violations and registration information on a specific building by using HPDONLINE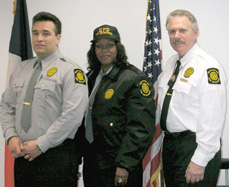 If the complaint is an emergency, a uniformed Code Enforcement inspector will be sent to inspect your apartment. Each time an inspector responds to a complaint, the tenant is provided the following information: a summary of issued violations; a complaint number; the date of inspection; and, the inspector's badge number. After the inspection, tenants receive two brochures outlining their rights and responsibilities and the most common health and safety violations. These brochures help tenants understand their rights and responsibilities. The building owner is also notified of the complaint.
If violation conditions are verified by the Inspector, a Notice of Violation will be sent to the owner instructing him/her to repair the condition. If the owner fails to correct immediately hazardous conditions, HPD's Emergency Repair Program may repair the condition and bill the owner for the cost of the repairs. Tenants can ask about the status of emergency repair work in their apartments by calling (212) 863-5510. NOTE: This number is for status requests only for ongoing HPD-sponsored emergency repair work that is already in progress.You can check on the status of a complaint by going to 311ONLINE or HPDONLINE.
If the building owner does not correct violation conditions, tenants may initiate legal action against the landlord in Housing Court. The Court has the authority to order the landlord to correct violations and can assess serious penalties for failure to comply. There is a $45 fee to file the action, which the court may waive if tenants are unable to pay.
For more information on the complaint and violation process in general, see the Guide to HPD Enforcement Service.
For information specifically about heat and hot water requirement, see Heat and Hot Water.