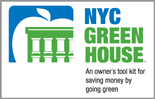 Partnership with HSBC Bank To Provide Online Tool Kit
For Multifamily Owners To Save Money by Going Green
Individual Actions Critical Component to Achieving PlaNYC Goal of 30% Greenhouse Gas Reduction by 2030
New York, February 17, 2011— The New York City Department of Housing Preservation and Development (HPD) and the Community Preservation Corporation (CPC) announced the launch today of NYC Green House,  a broad-based knowledge source and online resource guide for multifamily property owners who want to save money by going green. The program includes training workshops led by HPD staff and representatives from community organizations. Materials include a hands-on tool kit and a comprehensive new website, from which owners and others can download NYC Green House materials at www.nycgreenhouse.org. Reducing energy consumption in buildings, which are responsible for nearly 80% of the city's greenhouse gas emissions, is a critical component of PlaNYC, Mayor Bloomberg's plan to achieve a Greener Greater New York.
Made possible through a grant from HSBC Bank USA, the NYC Green House program offers a comprehensive and robust online reference source for apartment building owners on how they can cost-effectively retrofit, operate and maintain their buildings. Other program sponsors include the Department of Health and Mental Hygiene, Con Edison, National Grid, Enterprise Green Communities, Local Initiatives Support Corporation (LISC) NYC, NYC CoolRoofs, the Pratt Center for Community Development, NYCHA and the American Lung Association. The website, made possible by CPC, and the companion fact cards contain a wealth of money saving ideas and "how-tos" that link operational cost savings to sustainable practices in the general areas of energy, water, building materials and community-based initiatives. 
"Our data proves that rising utility costs contribute heavily to the rise in the cost of living and renting in New York City, said HPD Commissioner Rafael E. Cestero. This new educational program will help building owners identify the measures they can take to ensure their buildings operate more efficiently, keeping costs down, reducing their overhead and keeping their buildings more affordable for the people that live in them. And by going greener and following the simple advice we have put up on the website and in the collateral educational material, owners will also be helping the environment."
David Bragdon, Director of the Mayor's Office of Long Term Planning and Sustainability, said, "We will only achieve our ambitious goals in PlaNYC if building owners, and all citizens, take action. NYC Green House provides individuals with the practical information they need to save money, promote public health, and create greener, greater communities.
Michael Lappin, CPC President and CEO, said, "By taking a green approach to housing development and management, owners can dramatically improve the physical and financial health of their buildings.  Overall, the city will benefit from a reduction in greenhouse gas emissions.  I encourage every owner to visit the website today."
Richard DeZego, Senior Executive Vice President, Real Estate, HSBC Bank USA, said, "We recognize that a healthy environment and thriving neighborhoods are fundamental building blocks for the future success of our New York City banking operations. In keeping with our long-standing commitment to sustainability and community development, our partnership with CPC and HPD is making important information available to help building owners reduce their environmental footprint and save money."
From the www.nycgreenhouse.org home page, visitors can navigate with a single click to learn about how to lower utility bills and green housing tips:
Energy – helps building owners reduce the amount of energy used to operate their buildings safely and efficiently.  Whether renovating units, replacing mechanicals or maintaining these residential buildings, NYC Green House provides access to information on tax credits, rebates and incentives that promote energy efficiency, as well as some easy tips for everyday upkeep that can lower owners' energy bills.

 

Water -- helps building owners reduce the amount of water used by the residents, as well as the water used to operate their buildings. NYC Green House provides information and resources that can help building owners save up to a third on their hot water bill and helpful tips on how to avoid water leak damages.

 

Materials -- helps building owners use materials that are durable and healthy for maintaining or renovating multi-dwelling buildings.  Find tips on green cleaning and maintenance, as well as access to some guidelines for materials to use in renovating that can reduce water use, lower energy and heating costs and improve the quality of the air in buildings.

 

Community -- helps building owners benefit from all the programs that NYC provides to support sustainable, affordable housing. Everything from graffiti removal to getting a tree planted in front of your building can be found in the Community section of NYC Green House.
For more information, please visit www.nycgreenhouse.org .  Building owners with questions about NYC Green House or who want to register for a seminar can contact program staff by e-mailing nycgreenhouse@hpd.nyc.gov.
###


About the NYC Department of Housing Preservation and Development (HPD)
 HPD is the nation's largest municipal housing preservation and development agency. Its mission is to promote quality housing and viable neighborhoods for New Yorkers through education, outreach, loan and development programs and enforcement of housing quality standards. It is responsible for implementing Mayor Bloomberg's New Housing Marketplace Plan to finance the construction or preservation of 165,000 units of affordable housing by 2014. Since the plan's inception, a total of more than 111,300 affordable homes have been created or preserved. For more information, visit www.nyc.gov/hpd 
About CPC:
The Community Preservation Corporation is a not-for-profit mortgage lender that finances residential multifamily development throughout New York and New Jersey.  Since its founding in 1974, CPC has invested more than $7.6 billion in nearly 140,000 units of housing. For more information about CPC's loan products , visit www.communityp.com.
About HSBC
HSBC Bank USA, National Association operates more than 470 bank branches throughout the United States. There are over 375 in New York state as well as branches in Connecticut, Washington, D.C., Florida, New Jersey, Pennsylvania, Maryland, Virginia, California, Delaware, Illinois, Oregon and Washington State.  HSBC Bank USA, N.A. is the principal subsidiary of HSBC USA Inc., an indirect, wholly-owned subsidiary of HSBC North America Holdings Inc., one of the nation's largest bank holding companies by assets.  HSBC Bank USA, N.A. is a member of the FDIC.
# # #