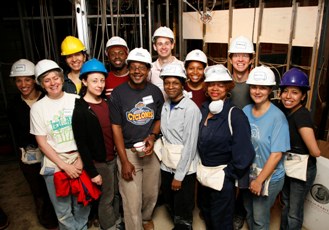 BROOKLYN, NY, May 3—New York City Housing Commissioner Shaun Donovan and his staff spent the day cutting and installing drywall at Habitat for Humanity – New York City's affordable homes in Brooklyn, working alongside the low-income families who will own these homes.
The 41 homes will be part of Mayor Bloomberg's 165,000-unit affordable housing plan, the largest municipal affordable housing plan in the nation's history. To underscore the city's commitment to affordable housing, Commissioner Donovan and fifteen Housing Preservation and Development Department (HPD) staffers gave up their Saturday to help these hardworking New York City families build their homes.
In addition to the muscle that HPD is lending to this complex, the agency sold the land to Habitat-NYC for just $13 and is committing $1.845 million from the NYC Housing Trust Fund to the project, located in Brooklyn's Ocean Hill-Brownsville neighborhood.
"Habitat-NYC is proud to welcome Commissioner Donovan and his staff," said Josh Lockwood, Executive Director of Habitat-NYC. "As the largest multifamily project ever constructed by Habitat for Humanity anywhere in the world, our Atlantic Avenue complex is an example of the passion and commitment that Mayor Bloomberg and Commissioner Donovan bring to addressing our city's affordable housing crisis."
"HPD is proud to partner with Habitat for Humanity – New York City in providing land, financing and -- today -- the hands, to help build these fantastic new green affordable homes," said Commissioner Donovan. "It is inspiring to be a part of making these homes a reality and further the creation of affordable homes for 500,000 New Yorkers through the Mayor's $7.5 billion affordable housing plan."
Custodio Castillo, a future Habitat-NYC homeowner who works as an ambulette driver, spent the day installing drywall with Commissioner Donovan. "I am very happy to have the opportunity to have this home," said Mr. Castillo, whose family spent many months in a homeless shelter after their apartment building was condemned for structural damage.
Mr. Castillo's son Custodio Jr., who is in college, and daughter Wendy, a college-bound high school student, also helped build with their father and Commissioner Donovan. "Having this home will help our family stay together, and my children will have quiet places to study," Mr. Castillo said.
The Atlantic Avenue complex is the largest multifamily Habitat project in the world and is being built to LEED standards for green building. These eco-friendly, energy-efficient homes will help low-income homeowners save at least 30 percent on energy bills, promote the families' health and help New York City create a sustainable future.
Subsidized prices for the one-, two-, and three-bedroom condominiums are expected to range between $70,000 and $160,000. Eligible homebuyers must earn between 45% and 80% of the HUD Income Limits for New York City ($34,560 to $61,450 for a family of four). In lieu of a down payment, the future homeowners must contribute 300 hours of "sweat equity" per adult to help build their homes.
The complex of three, four-story buildings is expected to be finished in 2009.
About the New York City Department of Housing Preservation and Development
The New York City Department of Housing Preservation and Development's (HPD) mission is to promote quality housing and viable neighborhoods for New Yorkers. The department is the nation's largest municipal housing development agency and is implementing Mayor Bloomberg's New Housing Marketplace Plan to build and preserve 165,000 units of affordable housing over ten years. The New Housing Marketplace Plan is the largest municipal affordable housing effort in the nation's history. As part of Mayor Bloomberg's PlaNYC HPD is working to create homes for almost a million more New Yorkers by 2030 while making housing more affordable and sustainable. HPD also encourages the preservation of affordable housing through education, outreach, loan programs and enforcement of housing quality standards.
About Habitat for Humanity – New York City
Habitat for Humanity-New York City transforms lives and our city by uniting all New Yorkers around the cause of decent, affordable housing. With the help of an average of 10,000 volunteers every year, Habitat-NYC has built more than 180 affordable homes in the five boroughs of New York City.
###