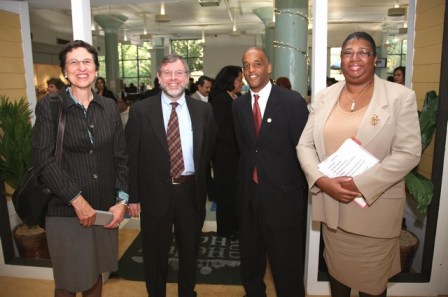 From Left to right: Nancy Clark, DOHMH Assit. Commissioner Bureau of Environmental Disease Prevention; Harold Schultz, HPD Special Counsel; Sean Moss, HUD Regional Director and Karen Booker, HPD Housing Education Services Director
Seeking to educate parents about the most common health and safety hazards in the home, such as lead, mold, carbon monoxide, pests and asthma irritants, the New York City Department of Housing Preservation and Development (HPD) held its 2006 Healthy Homes, Healthy Families Expo today at LaGuardia Community College in Queens.  Attracting several thousand visitors, the free all-day expo featured exhibit tables representing city, state, and federal agencies, non-profit partners, community organizations, and other vendors providing information on in-home safety.  An added attraction was the U.S. Department of Housing and Urban Development's (HUD) true-to-size demonstration Home & Safety Pavilion where visitors learned about indoor environmental risks, in-home health and safety issues, healthy living, and an educational play area where children could also learn about home safety. 
The HUD exhibit is part of its Healthy Homes for Healthy Kids Campaign that consists of a 30-city national tour promoting home health and safety awareness.  The HUD Pavilion had a trained community peer educator conducting home Health & Safety demonstrations every 15 minutes.  Home Health & Safety Kits were also available for distribution.  Children visiting the Pavilion received coloring books, crayons, paint paddles, and growth charts.  While New York City has made significant progress in reducing numerous home health hazards, such as asthma, lead poisoning, allergy irritants, and pests, a number of city neighborhoods continue to struggle with these home health issues.  
HPD Commissioner Shaun Donovan said, "Healthy homes are the foundation of healthy families and strong neighborhoods. Events like the Healthy Homes, Healthy Families Expo empowers New Yorkers to improve the safety and conditions of their homes and provides tools that can help them."
The Expo also featured local officials speaking on a variety of topics related to in-home safety including enforcement of housing codes and general home safety throughout the morning.  In the afternoon, the Expo featured workshops ranging from home environmental issues to obtaining licenses and permits for home improvements.
"HUD is devoted to educating parents about the most common health and safety hazards in the home, and is working with parents, teachers and children around the country to achieve this goal," said Sean Moss, HUD Regional Director for New York and New Jersey.  "That is why we are so grateful to Commissioner Donovan and HPD for hosting the 2006 Healthy Homes, Healthy Families Expo at LaGuardia Community College in Queens, and including HUD as one of the key exhibitors."
HUD has awarded $171 million this year to cities and states around the country to address lead and other hazards in housing. This funding will control these hazards, conduct research, educate housing contractors, and provide outreach to the public.  This Healthy Homes for Healthy Kids Campaign is a critical part of the Department's combined approach of controlling hazards and helping families and landlords avoid creating them by giving them the information they need.  This Campaign is also part of a national commitment to eliminate lead poisoning in children by 2010.   Since 1997, New York State has received $110 million to combat home health hazards, with New York City receiving almost $27 million of this total.
Expo attendees also had the opportunity to visit HPD's Handy Van, a mobile classroom that provides housing education to residents in their own neighborhood. The Handy Van offers information and training on basic home repairs, electrical safety, gas safety, enhanced affordability through energy efficiency, and home health safety issues.
                                                                        #   #    #