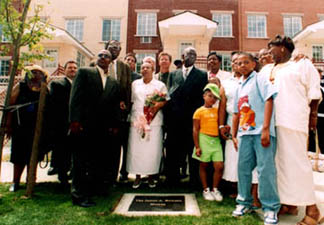 Long-time community activist and former Brooklyn Community Board 16 Chair James A. Bowens was honored today at a ceremony naming a new city-sponsored townhouse development in Brooklyn's Oceanhill neighborhood in his honor. NYC Commissioner of Housing Preservation and Development Shaun Donovan, Housing Partnership Development Corporation President Dan Martin and Brooklyn Borough President Marty Markowitz joined Council Member Tracy Boyland to unveil a bronze plaque officially designating the 41 two-family houses along Bergen and Thomas Boyland Streets and Saratoga and St Marks Avenues as The James A. Bowens Homes. Pastor Vincent Pinkney of the United House of Prayer for All People, where Mr. Bowens served as president of the Deacon Board and Sunday School superintendent, gave the invocation.
"We're delighted to commemorate Mr. Bowens' efforts on behalf of this community by naming this development for him," said HPD Commissioner Shaun Donovan. "Homeowners are anchors of their communities because they want to preserve their property values and advocate for good schools, convenient quality shopping and well maintained parks that make safe, stable neighborhoods. Mr. Bowens is both a long-time homeowner himself and supporter of others making a similar financial investment. It's in this spirit that Mayor Bloomberg's "New Housing Marketplace Plan introduces the city's first downpayment assistance program and lowers other barriers to homeownership."
"We are proud to be a part of this triumphant construction of new homes in Brooklyn," said Dan Martin, Housing partnership Development Corporation President. "The Bowens homes embody the efforts of a successful working partnership that echo the start to a new day for the working class family."
"The Boyland family has worked hard to encourage New York City Housing Authority residents as well as Central Brooklyn residents like Mr. James Bowens, to purchase their own homes," said Council Member Boyland. "It's especially fitting to honor this neighborhood homeowner and former Community Board 16 Chair for his outstanding service to the Oceanhill/Brownsville community."
Transcorp is developing the homes on formerly city-owned land through the Partnership New Homes Program that is jointly administered by HPD and the Housing Partnership Development Corporation. Citibank Community Development provided $8.4 million of construction financing. Government assistance helped lower the purchase price so the homes are more affordable to the 41 purchasers. There was $1.54 million of subsidy from HPD, another $1.23 million of subsidy from the New York State Affordable Housing Corporation, $1.05 million from Council Member Boyland, and $287,000 from Borough President Markowitz. Transcorp was awarded the site through a competitive Request for Qualifications process. Berean Baptist church is the not-for-profit community sponsor.
"These new affordable homes will serve as a lasting tribute to James Bowens' leadership and dedication to the Oceanhill community, " said Marc Jahr, Citibank Community Development's Marketplace Director for the New York Metro Area. "We are pleased to strengthen our commitment to help make communities where we do business better places by having provided $8.4 million in financing for this project. We know that the families who will live here will enjoy their new homes and contribute to the strength and stability of the neighborhood for many years to come."
Astella Development Corporation, the not-for-profit organization responsible for marketing James A. Bowens Homes, received over 2,600 applications to the lottery, which was conducted in February 2005. Buyers' annual incomes cannot exceed $75,000. The average sales price for a home is $236,842.
HPD's mission is to promote quality housing and viable neighborhoods for New Yorkers. The department is the nation's largest municipal housing development agency. Since Fiscal Year 1987, the agency has completed the construction or rehabilitation of over 229,000 units of affordable housing. To request a Homeownership Kit or for information abut affordable rental housing, call 311 or log on to www.nyc.gov/hpd