FOR IMMEDIATE RELEASE
New York City Department of Health and Mental Hygiene (DOHMH)
Office of Communications

CONTACT: Sandra Mullin/Sid Dinsay
Business Hours (212) 788-5290
After Business Hours (212) 764-7667
Thursday, July 29, 2004

NEW CASES OF CHILDHOOD LEAD POISONING DECLINE BY 82% OVER PAST DECADE, DOWN 14% FROM 2002 TO 2003, BUT LEAD POISONING PERSISTS AS A SIGNIFICANT PUBLIC HEALTH PROBLEM
Health Dept. Launches New Public Awareness Campaign
NEW YORK CITY - July 29, 2004 - The downward trend in new cases of children with elevated blood lead levels continued in 2003, with new lead poisoning cases down from 3,985 in 2002 to 3,413 in 2003 - a 14% decline. In the past decade, new cases of lead poisoning have decreased by 82%. However, lead poisoning remains a serious problem. The 2002-2003 data show that lead poisoning continues at high levels in some areas of the City, especially in certain neighborhoods in Brooklyn, the Bronx and Queens.
"Childhood lead poisoning is a preventable tragedy. Over the past decade we have seen a significant reduction in new lead poisoning cases, but unacceptably high rates persist in some neighborhoods," said Health Commissioner Thomas R. Frieden, MD, MPH. "Preventing elevated blood lead levels is key. Landlords are required to remove lead hazards from homes where young children live, and parents are advised to call 311 if this does not occur. Parents should also make sure their children at ages one and two years get tested. The Health Department's new awareness campaign will help educate New Yorkers about preventing lead poisoning, and assist in accelerating the elimination of lead poisoning."
2003 NYC Childhood Lead Poisoning Data
The number of newly reported children with elevated blood lead levels fell by 82% in the past decade (Table 1), and childhood lead poisoning cases that require environmental intervention and case monitoring have declined 70% since 1995 (Figure 1).
Table 1 - Number of Newly Identified Children with Elevated Blood Lead Levels (BLL) of 10 micrograms per deciliter (mcg/dL) or Higher, Ages 6 Months to Less Than 6 Years, 1995-2003
| | | | | | | | | | |
| --- | --- | --- | --- | --- | --- | --- | --- | --- | --- |
| Calendar Year | 1995 | 1996 | 1997 | 1998 | 1999 | 2000 | 2001 | 2002 | 2003 |
| Number of Children with a Newly Reported BLL of 10 mcg/dl or Higher | 19,232 | 14,406 | 11,537 | 9,575 | 7,045 | 6,231 | 4,618 | 3,985 | 3,413 |
| % change from previous yr | --- | -25% | -20% | -17% | -26% | -12% | -26% | -14% | -14% |
| % change from 1995 | --- | -25% | -40% | -50% | -63% | -68% | -76% | -79% | -82% |
Figure 1- Newly Identified Children at or Above the Environmental Intervention Blood Lead Level, Ages 6 Months to Less Than 6 Years, 1995-2003†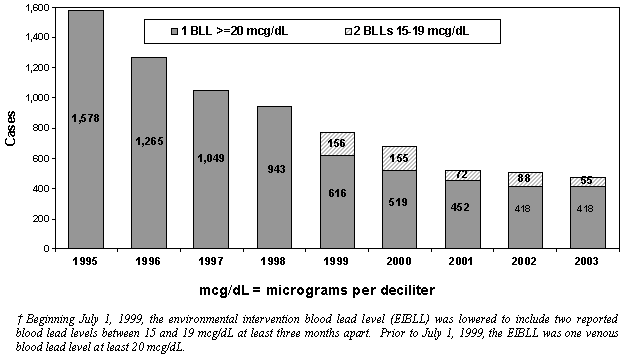 Neighborhoods With Highest Rates of Childhood Lead Poisoning
In 2003, 37% of children with elevated environmental intervention blood lead levels (EIBLL's) in New York City resided in Bedford-Stuyvesant, Crown Heights, East Flatbush, Flatbush, East New York, Williamsburg and Bushwick in Brooklyn; the Fordham section of the Bronx; and western Queens. In 2003, the lead poisoning case rate increased in parts of Staten Island - Port Richmond, Stapleton and St. George - where screening rates were also lower than the Citywide average.
Prevention and Education Efforts
The new lead paint law passed by the City Council misdirects critical lead poisoning prevention resources and will jeopardize the pace of future progress. Nonetheless, to achieve the national goal of eliminating childhood lead poisoning by 2010, New York City is intensifying efforts to prevent lead poisoning, particularly in high-risk neighborhoods. These efforts include:
Collaborating with the New York City Department of Housing Preservation and Development (HPD) to increase awareness and enforce the responsibility of landlords to correct lead paint hazards in apartments with young children;
Educating owners and contractors about safe ways to minimize potential lead dust exposures during renovation and repair work, in accordance with existing guidelines;
Working with medical providers to promote blood lead level testing of all one- and two-year-old children including issuing a City Health Information bulletin to physicians on Childhood Lead Poisoning Prevention and Management;
Collaborating with community, housing, medical and other government agencies to identify the most effective strategies to further reduce lead hazards and eliminate childhood lead poisoning in New York City; and
Providing continued outreach to families and community organizations about lead poisoning prevention.
In addition, a new public education campaign highlighting the dangers of peeling lead paint - Peeling Lead Paint Turns into Poisonous Dust: Guess Where It Ends Up?- is appearing on New York City Transit buses and bus shelters, and will soon be featured on billboards and in subway cars throughout the City. In addition, posters, brochures, and informational cards will be distributed to community-based organizations, community centers and medical providers.
Testing for Childhood Lead Poisoning

New York State law mandates that doctors test children for elevated blood lead levels at both one and two years of age. These children are at greatest risk for lead poisoning because they crawl, play on floors and engage in frequent hand-to-mouth activity; their brains may also be more susceptible to damage from lead poisoning. But testing remains low in some communities: on Staten Island, where the rates increased between 2002 and 2003, only 40% of one- and two-year-old children were tested, compared to 61% citywide.

State law also requires that doctors assess the risk of exposure for all children under the age of six and perform blood lead testing as indicated. Risk factors include:
Children who live in or regularly visit a home or any other place built before 1960 that has peeling or chipping paint, or that has recent, ongoing, or planned renovation;
Children who have a brother, sister, housemate, or playmate with an elevated blood lead level or who frequently come into contact with an adult whose job or hobby may involve exposure to lead;
Children who have visited other countries - or recently arrived from a country - where there may have been exposure to lead; and
Older children with developmental delays, who exhibit pica (ingestion of non-food substances, such as paint chips) or have extensive hand-to-mouth activity.

New Yorkers may call 311 or visit nyc.gov/health for more information about how to prevent childhood lead poisoning or to report a complaint against a landlord.