Mayor's Office Press Release #241-03
FOR IMMEDIATE RELEASE
September 3, 2003

Press Contacts:
Edward Skyler / Jennifer Falk (212) 788-2958

MAYOR MICHAEL R. BLOOMBERG ANNOUNCES CITY TO SEEK DEVELOPER FOR SENIOR CITIZEN HOUSING ON SEA VIEW HOSPITAL CAMPUS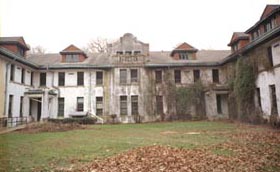 Former nurse's residence on Sea View campus
Mayor Michael R. Bloomberg announced today that the City will seek a developer to build approximately 100 units of senior citizen housing on the Sea View Hospital Rehabilitation Center and Home campus in the Willowbrook section of Staten Island. The project involves the rehabilitation of a 100,000 square foot historic City-owned building located on the 70-acre campus, which once served as a nurse's residence. The campus was designated a historic district in 1985 by the New York City Landmarks Commission.
"It gives me great pleasure to announce that we will be producing housing for senior citizens in Staten Island as part of our administration's housing plan," said Mayor Bloomberg. "When this new facility opens, over a hundred seniors will be able to enjoy their retirement in a beautiful campus setting with the best care around. Our senior citizens who have contributed so much to this City over the years deserve nothing less than the best."
In early October 2003, the NYC Department of Housing Preservation and Development (HPD), in cooperation with the Health and Hospitals Corporation (HHC), will issue a Request for Qualifications (RFQ) to determine the eligibility of interested individuals and organizations to develop the project. HPD expects to select a developer from the list of qualified developers established through the RFQ in early December 2003. The site will be conveyed to the developer, through sale or long-term lease, and construction is anticipated to begin in early 2005.
The selected developer will be required to provide a minimum level of supportive services, including: free utilities, private dining room for family functions, three hot meals per day, housekeeping, laundry/linen service weekly, basic cable, appliances for efficiency kitchens. The developer may also contract with the Sea View Hospital to provide additional services including: jitney service, personal grooming services, meditation gardens, concierge, ground maintenance, activities, 24-hr security, and van services to malls.