FOR IMMEDIATE RELEASE

July 21, 2003

Press Contact: Tracy Paurowski (212) 227-9496
To request a homeownership kit, call 311.
Click here for HPD's lists of affordable homes


Harlem Residents Celebrate the Dream of Home-Ownership at the Opening of Harriet Tubman Gardens
--New York City Affordable Housing Initiative Creates 73 Cooperative Apartments on Frederick Douglass Boulevard--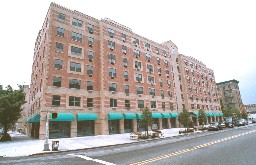 July 21, 2003, New York, NY -- The New York City Housing Development Corporation (HDC), the New York City Department of Housing Preservation and Development (HPD), the Bluestone Organization, elected and community officials, and first time home-owners cut a ribbon today at a ceremony celebrating the completion of an eight-story, 73-unit cooperative development located at 2235 Frederick Douglass Boulevard between West 120th and West 121st Streets.
Residents of the area surrounding the Frederick Douglass Boulevard corridor south of 125th Street, watched as buildings deteriorated, casualties of the abandonment and disinvestment that blighted Central Harlem through the 1970's and 80's. Over the past decade, the City's housing initiatives, combined with support from the private sector, have brought a burst of residential and commercial development to the community. In a market dominated by rental developments, there has been a recent movement to increase homeownership opportunities in Harlem. In 1993 homeownership was at six percent of the population, compared to present day which is just over thirteen percent.
"All of the new development has been great for the community," stated Sharina Reed, a new homeowner at Harriet Tubman Gardens who was born and raised in Harlem. "I love this area, moving out and leaving my family never crossed my mind. I also never thought I'd be a homeowner, I'm looking forward to moving-in." Reed is employed by the City of New York.
The vision of Harriet Tubman Gardens began in the summer of 2000 with a competitive Request For Proposals issued by HPD for its newly developed Cornerstone initiative. This program creates newly constructed market rate multi-family housing on vacant city-owned land without direct city subsidy.
HPD Commissioner Jerilyn Perine said "Homeowners want to protect the value of their investment and stand for the things vital to neighborhood stability: safe streets, good schools, playgrounds and nearby places to shop and work. Affordable housing is fundamental to the City's long-term economic prosperity, and Mayor Bloomberg's housing strategy, 'The New Marketplace: Creating Housing for the Next Generation,' will guide us towards securing that future."
The site of Harriet Tubman Gardens had been vacant land for over 15 years when the Bluestone Organization was selected to develop it. The Bluestones understood the importance of homeownership having built Malcolm Shabazz Gardens, a townhouse development located on West 117th Street between Lenox Avenue and Adam Clayton Powell Boulevard, and West 118th Street between Lenox and Fifth Avenues.
"Home-ownership has a terrific impact on the stability and success of a neighborhood and we knew Harriet Tubman Gardens would be an important asset to the community," stated Eric Bluestone. "By purchasing the land through HPD and utilizing financing from HDC, the development was able to be constructed economically and made very affordable to the purchasers."
Construction financing for Harriet Tubman Gardens, totaling over $18 million, was provided through the New York City Housing Development Corporation and the JP Morgan Chase Community Development Group.
Through HDC's middle-income affordable housing program, New Housing Opportunities Program (New HOP), the cooperative corporation will receive a low-interest loan from HDC in the amount of $5,920,000. Harriet Tubman Gardens represents one of the first efforts to provide financing for a traditional coop. Purchasers were required to obtain end loans from banks, which was a departure from the earlier limited cooperative structure where HDC provided the end loan in the form of an underlying mortgage.
"The significance of requiring a traditional mortgage is that it allows the purchaser to enjoy the benefits of building equity in their home," stated William Traylor, Acting President of HDC. "This is an important part of HDC's homeownership effort because it enables more New Yorkers to participate in the American Dream of owning a home."
JP Morgan Chase, who provided a construction loan to the Bluestones in the amount of $12,200,000, will finance the mortgages of many of the homebuyers as well.
"Providing access to capital for real estate developers as well as individual homebuyers in affordable housing projects throughout Harlem and the rest of the City is a key part of JP Morgan Chase's community development mission," according to Jeffrey Nixon, Vice President. Other participants with JP Morgan Chase in the construction financing are Fannie Mae and New York National Bank.
Harriet Tubman Gardens is a modern, elevator building consisting of two bedroom apartments with one and one-half bathrooms and three bedroom apartments with two full-bathrooms. Other amenities include a parking garage, community room and a back-yard patio area. There is also ground-floor commercial retail space.
The sales price of the apartments ranged from $129,439 for the two bedroom units to $167,300 for the three-bedroom units. Interested homebuyers were required to meet the guidelines set forth in the New HOP program in order to be eligible for the lottery. In accordance with the guidelines, applicants could earn no more than 250% of the area median income. Additionally, there was a 30% community preference imposed. This preference was established to provide greater housing opportunities for long-time residents of New York City neighborhoods where new developments are located. The Bluestone Organization was pleased to report that almost 40% of the units were sold to those already living in Harlem.
In addition to the co-operative development, the Bluestones constructed nine three-family townhouses on the site, which are located on West 120th Street and West 121st Street. JP Morgan Chase provided additional financing for the townhouses.
HPD's mission is to promote quality housing and viable neighborhoods for New Yorkers. The department is the nation's largest municipal housing development agency. Since Fiscal Year 1987, the agency has completed the construction or rehabilitation of 204,000 units of affordable housing. To request a Homeownership Kit or for more information about affordable rental housing, call 311 or log on to nyc.gov/hpd
The New York City Housing Development Corporation (HDC) is a public benefit corporation established in 1971 to facilitate the creation of affordable housing throughout New York City by providing below market rate financing. HDC finances most of its activities through the issuance of bonds and notes as well as provides mortgages directly from its Corporate reserves. In its 30-year history, HDC has financed more than 76,000 units of housing throughout the City of New York.
The Bluestone Organization is a third generation, family owned, full service real estate company, specializing in the site selection, planning, financing, construction, marketing and management of affordable housing in New York City for over 70 years.