FOR IMMEDIATE RELEASE

March 25, 2003

Press Contacts:
Roland Lewis, Executive Director
Habitat for Humanity -- NYC
Cell: 917-696-3139
Phone: 212-246-5656 ex. 304
HABITAT FOR HUMANITY - NYC BREAKS GROUND ON 13 NEW HOMES IN MOTT HAVEN
First-Time Homebuyers and Volunteers from Around the World Building New Foundations in the Bronx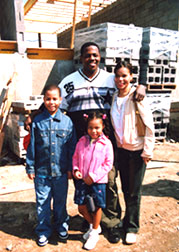 Future homeowners like the Palacios family, pictured
above, will contribute up to
250 hours of "sweat equity."
New York, March 25 - Habitat for Humanity - NYC today broke ground on thirteen new single-family homes in the Mott Haven section of the Bronx. First-time homebuyers, Bronx Borough President Adolfo Carrion, Jr. city and state officials and community leaders joined Habitat to celebrate the event. The 13 semi-attached, three-bedroom row houses, located on 150th Street between Union and Tinton Avenues, are being developed through New Foundations , a new homeownership program created by the New York City Department of Housing Preservation and Development (HPD).
Launched in 2000, New Foundations produces one- to four-family homes on city-owned land with no direct city subsidies. Developers are chosen through a competitive Request for Proposals process. In accordance with program regulations, each of the 13 homes must remain owner occupied for at least 20 years. Habitat for Humanity - NYC requires each future homeowner to contribute up to 250 hours of "sweat equity." Sale prices of the homes range from $100,000 to $130,000.
HPD Commissioner Jerilyn Perine said, "Homeownership is critical to ensuring vibrant communities with good schools, safe places to play, shopping and affordable quality housing, the factors that protect every homeowner's investment."
Major funding for the $1.9 million development came from the Bronx Borough President, the First Time Homebuyers Assistance Program of the NYS Division of Housing and Community Renewal, and the Independence Community Foundation, and from many, many other corporate, faith, and individual contributors large and small.
"Housing affordability is a tremendous challenge in the borough of the Bronx," said Bronx Borough President Adolfo Carrion, Jr., who spoke at the groundbreaking event. "By offering these local Bronx families a homeownership opportunity, we will directly target people who are most burdened by this situation, and through their efforts and the efforts of thousands of Habitat for Humanity volunteers, we will strengthen this community."
"We are very excited about our involvement with this project," said Marilyn Gelber, Executive Director of the Independence Community Foundation. "Through our partnership with Habitat for Humanity - NYC, we have created a new urban model for community renewal and development. Supporting quality, affordable housing initiatives is very important to the goals of our foundation."
Roland Lewis, Executive Director of Habitat for Humanity - NYC, added, "We create stability in neighborhoods by offering homeownership opportunities to hard working New Yorkers. Because each Habitat family must work to build their own home as well as their neighbors' homes, they have a vested interest in taking care of their home and strengthening their community."
The World Build
Habitat for Humanity's 2nd Annual World Build will take place at this worksite on May 1-4, 2003. Hundreds of volunteers from faith groups, corporations, community groups and the United Nations will celebrate Habitat's work in 83 countries worldwide, and its ability to unite and build better international understanding and brotherhood. Throughout the weekend, these volunteers will unite across racial, ethnic, economic and political boundaries to join with the future homeowners in building their houses.
About the Neighborhood
These homes represent Habitat for Humanity - NYC's third development in the Bronx. Mott Haven has the highest percentage of people in poverty (65.3%) in the entire City of New York. Its homeownership rate of only 10.4% is one of the lowest in the City. Housing affordability problems in the Bronx have been a persistent problem, with 29.1% of Bronx residents spending more than 50% of their incomes on housing - the highest rate of any borough. Despite these facts, Mott Haven is experiencing a revitalization. Habitat for Humanity - NYC believes that it can build on the advancements that have been achieved in the area while working to eradicate many of the significant problems that still exist.
About Habitat for Humanity - NYC
Habitat for Humanity - NYC is an independent affiliate of Habitat for Humanity International. As a not-for-profit builder of affordable housing, it advocates that no one in New York City should go to sleep without a decent roof over his or her head. Each home built makes the dream of homeownership possible for a family whose income level would not have permitted them to receive a mortgage from a bank. Reasons for its success are:
Emphasis on self-help and empowerment through the principle of "sweat equity" whereby homeowners work up to 600 hours per family on the construction of their own home and the homes of other Habitat - NYC families;
Preservation of neighborhoods by giving local families first priority;
Organizational structure that uses a Chapter Board system made up of people from local churches, community groups and businesses. These chapters help select families, find property, raise funds and review architectural plans;
Building many homes together for the greatest impact on neighborhood improvement and community building.
Habitat has been active in New York City since early 1984 and serves as a uniquely successful urban model for the volunteer-driven, "sweat equity" Habitat for Humanity construction method. Habitat for Humanity - New York City now has over 120 homes completed in Manhattan, the Bronx, Brooklyn, and Queens, with dozens more under construction and plans to build hundreds more.
Habitat for Humanity - NYC is grateful to CulinArt for providing food and beverages at the groundbreaking event.
For more information, visit www.habitatnyc.org