FOR IMMEDIATE RELEASE

July 24, 2003

Press Contacts:
Geel Community Services, Inc.
(718) 609-6396, (908) 902-1646
Permanent Homes After Almost a Decade in Homeless Shelters
Homeless Mentally Ill Find Permanent Housing in New Supportive Housing Building in the Bronx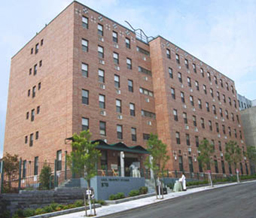 (July 24, 2003) Bronx, N.Y. - Fifty-six formerly homeless mentally ill people, some who spent as many as nine years living in the shelter system, and fourteen local residents today celebrated the ribbon cutting for their new home, an apartment building developed through the New York City Department of Housing Preservation and Development's (HPD) Supportive Housing Loan Program. Joining them in the opening celebration were government and elected officials, funders and employees and board members of Geel Community Services, the sponsoring organization.
Following the ceremony, tenants and their case managers simultaneously led tours of the new, six-story building, showing the studio apartments with private baths, fully stocked kitchenettes, table and chairs, new beds, linen, cookware and dishes. Tour-goers also had a chance to view the large, furnished community room, outdoor patio and recreation area, laundry room and staff offices.
According to Maria Matias, executive director, Geel Community Services, Inc., some of Prospect Studios' new residents have been in the shelter system for more than four years, others up to nine years, not including time spent on the streets. "Having a place to call home and services that help give individuals a sense of self-worth is essential for those with mental health issues or who have been caught in a cycle of living in homeless shelters for years," says Mathias. "Geel is very proud to offer New York's neediest and most vulnerable, new, safe, reliable housing unmatched, comprehensive on-site supports, including case management, prevocational job training, social programs, and 24-hour crisis intervention."
Said HPD Commissioner Jerilyn Perine, "The residents of Archie's Place now have the permanent housing that provides them opportunity for a better life. Sharing their joy today, I am happy to report that in conjunction with Mayor Bloomberg's housing plan, The New Housing Marketplace: Creating Housing for the Next Generation, HPD's special needs housing budget has increased by 50 percent."
Constructed on six formerly city-owned vacant lots on East 162 Street in the Bronx the building, which contains 71 fully furnished studio apartments is named "Archie's Place" in memory of Archie Hollander, the inspiring, former executive director of Geel Community Services, Inc. who passed away last year. His wife, Betty Vera Hollander, unveiled a commemorative plaque at the entrance.
"The cornerstone of Geel's philosophy - to provide dignified support and coping skills that leads those with mental illness on a path toward independence in their communities - was championed by Archie," says Geel Community Services, Inc. Board President, Jim Marley. "That's why today in his honor, we unveil our building's cornerstone and christen it 'Archie's Place.'"
Bennie Gardner, who was in the New York City shelter system for more than four years and was the first tenant to move into his new apartment in Archie's Place two months ago said, "My biggest accomplishment is moving out of the shelter system into independent living at Geel Prospect Studios. The building itself is just gorgeous and I intend to make the very best of my stay here."
Funding for Archie's Place was provided by HPD ($7,171,296); the Enterprise Social Investment Corporation ($2,656,000 of low income tax credit equity); Deutsche Bank ($50,000) and GreenPoint Bank ($385,000). In addition, a $2,181,000 Shelter Plus Care grant from the U.S. Department of Housing and Urban Development will provide rental subsidies for 56 units over a five year period and the New York State Office of Mental Health will contribute another $512,000 annually for care of the mentally ill.
Geel Community Service, Inc. has provided counseling and services to mentally ill people in a dignified manner, maximizing their sense of self-worth and leading them on a path toward independence in their communities since 1976. The organization, which currently provides more than 280 supportive housing units in the Bronx, is named for Geel, a city in Belgium with an international reputation for (hosting and) compassionately caring for mentally ill people in private homes since the 12th Century. Geel Community Services, Inc. continues in the Geel, Belgium tradition with its network of supportive housing in the Bronx that includes:
Geel's Apartment Treatment Programs for seriously mentally ill adults (54 apartments)
Geel's Supported Single Room Occupancy Housing (SRO) for formerly homeless and mentally ill adults and housing-needy individuals. Sites: Geel Union (29 apartments) and Geel Prospect Studios (70 apartments).
Geel's Supported Housing Program for highest functioning individuals with mental health issues and their families. Geel Bedford Apartments (95 apartments) Geel 182nd St. (35 apartments).
Geel's Clubhouse which offers services, such as prevocational training and social activities for mentally ill adults many who are current or former residents of Geel Community Services, Inc. residential programs.