FOR IMMEDIATE RELEASE

June 11, 2003

Press Contacts:
Sandra Mullin/Greg Butler
Business Hours (212) 788-5290
After Business Hours (212) 764-7667

NYC HEALTH COMMISSIONER THOMAS R. FRIEDEN ANNOUNCES 79% REDUCTION IN CHILDREN NEWLY IDENTIFIED WITH ELEVATED BLOOD LEAD LEVELS SINCE 1995
Parents with Small Children Should Insist that Landlords Fix Peeling Paint, It's the Law
Health Commissioner Thomas R. Frieden announced today that the percent of children newly identified with elevated blood lead levels has declined 79% since 1995. Dr. Frieden also announced a new radio campaign with the tagline - Get the facts, know the law, and protect your child - informing parents and caregivers that landlords must inspect and repair peeling paint conditions at no cost to tenants, and that tenants can report violations of the law to 3-1-1.
Dr. Frieden said, "Childhood lead poisoning is preventable, and in recent years great strides have been made. In 1995 there were 19,232 New York City children with elevated blood lead levels [see table 1], compared with 3,985 children in 2002. [See figure 1]. But one child with elevated blood lead levels is one too many. It is important that children get tested and landlords take responsibility for correcting lead hazards. Parents can also take steps in their homes to prevent lead poisoning, such as wet mopping and damp wiping of floors and other surfaces, and frequently washing toys, pacifiers or any other objects that kids place in their mouths."
"With the gains made each year," continued Dr. Frieden, "we hope for a day in the not-too- distant future when childhood lead poisoning is eliminated in the City. To achieve this, we will continue to be vigilant about getting children tested, forcing landlords to take responsibility for the safe repair of lead hazards, and making sure families know what to do to protect their kids."
New York City is intensifying prevention efforts in high-risk neighborhoods to achieve the national goal of eliminating childhood lead poisoning by 2010. These efforts include:
Providing continued outreach to families and community organizations about lead poisoning prevention;
Working with medical providers to promote blood lead testing of all 1 and 2 year old children;
Educating owners and contractors on safe ways to conduct renovation and repair work in accordance with existing guidelines to minimize potential lead dust exposures; and
Developing a plan to eliminate childhood lead poisoning in New York City in collaboration with an advisory panel comprised of community, housing, medical and government representatives to identify the most effective strategies to further reduce lead hazards.
2002 NYC Childhood Lead Poisoning Data
Over the past three decades, New York City has experienced a dramatic decline in childhood lead poisoning. The number of newly reported children with elevated blood lead levels has fallen 79% over the same period of time (Table 1), and childhood lead poisoning cases that require environmental intervention and case monitoring have declined 63% since 1995 (Figure 1).
Table 1- Number of Newly Identified Children with Elevated Blood Lead Levels (BLL) of 10 Mcg/dL or Higher, Ages 6 Months to less than 6 Years, 1995-2002

Figure 1- Newly Identified Children at or Above the Environmental Intervention Blood Lead Level† Children Ages 0 Months to Less than 18 Years, 1995-2002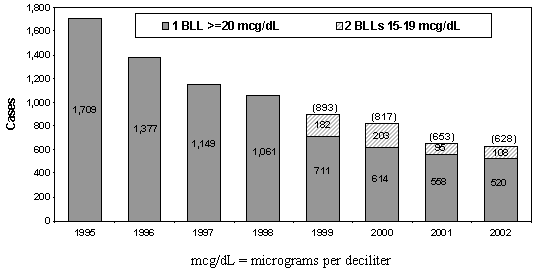 † Beginning in July 1, 1999, the environmental intervention blood lead level (EIBLL) was lowered to include 2 reported blood lead levels between 15 and 19 mcg/dL at least three months apart. Prior to July 1, 1999, the EIBLL was one venous blood lead level at least 20 mcg/dL.
Of the newly identified lead poisoned children in 2002, 26% were born outside of the United States, primarily from Haiti, Mexico, Pakistan, the Dominican Republic and Bangladesh. In response to this trend in childhood lead poisoning in New York City, DOHMH is conducting outreach to community-based organizations that serve immigrant populations.
Testing for Childhood Lead Poisoning
Dr. Frieden also emphasized the need for City children to be tested for lead poisoning: "Many children with elevated blood lead levels exhibit no symptoms and elude diagnosis, underscoring the importance of early and regular screening for lead poisoning. New York State law mandates that doctors test children for elevated blood lead levels at both one and two years of age, but in New York City these rates are too low - while 86% of children were tested at least one time by the age of three, only 31% were tested at both age one and two in 2002. Improved screening among these children is critical since children at these ages are at greatest risk for lead poisoning."
State law also requires that doctors test all children under the age of six who are risk for lead poisoning, which includes:
Children who live in or regularly visit a home or any other place built before 1960 that has peeling or chipping paint, or that has recent, ongoing, or planned renovation;
Children who have a brother, sister, housemate, or playmate with an elevated blood lead level or who frequently come into contact with an adult whose job or hobby may involve exposure to lead;
Children who have visited other countries - or recently arrived from a country - where there may have been exposure to lead; and
Older children with developmental delays, who exhibit pica (ingestion of non-food substances, such as paint chips) or have extensive hand-to-mouth activity.
For more information about how to prevent childhood lead poisoning or to report a complaint against a landlord, call 3-1-1or visit nyc.gov/health.