FOR IMMEDIATE RELEASE

October 31, 2001

Contact:
Robert Barletta
Cara Marino
The Marino Organization, Inc.
(212) 889-0808
HARLEM WELCOMES RENAISSANCE PLAZA
--WTC Firefighter Fund and Local School Receive Donations at Ceremony--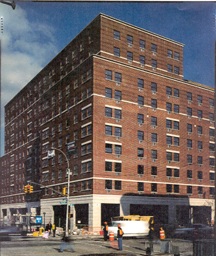 NEW YORK, NY- October 31, 2001-The opening of Renaissance Plaza, the largest mixed-use development to be built in Harlem in 20 years, was celebrated in a ribbon-cutting ceremony today by its new residents, commercial tenants and members of the unique public/private partnership that produced it. The $63 million development is located at the corner of West 116th Street and Malcolm X Boulevard and contains 241 cooperative apartments and more than 60,000 square feet of retail space.
Renaissance Plaza, complete with a landscaped interior courtyard, community and laundry rooms and an attended 200-car parking garage, sits on what was city-owned vacant land now transformed through the innovative ANCHOR (Alliance for Neighborhood Commerce, Homeownership and Revitalization) Program administered by the NYC Department of Housing Preservation and Development (HPD) and the NYC Housing Partnership. The ANCHOR Program integrates the rebuilding of commercial corridors with the development of homeownership housing using public funds to leverage private financing and spur local economic development.
"The Renaissance demonstrates the effectiveness of pairing affordable homeownership and nearby places to shop and work through public private partnerships," said HPD Commissioner Jerilyn Perine.
Commercial tenants in Renaissance Plaza include CVS, Petland Discounts, Ashley Stewart women's apparel, Carver Savings Bank, and a Pioneer supermarket. The cooperative units were sold to purchasers whose gross incomes were between $25,488 and $140,500.
"West 116th is on the rebound and these new businesses and homes will only add to the flourishing neighborhood," said Jeff Levine, Principal of Suna/Levine, Inc., the project's developer, and President of Levine Builders, which served as general contractor. "The entire community, not just the residents of Renaissance Plaza, will benefit from this development."
Major funding for Renaissance Plaza was provided by the NYC Housing Development Corporation through its New Housing Opportunity Program (New HOP), the Empire State Development Corporation through the New York State Metropolitan Economic Revitalization Fund, the NYC Retirement Fund, the NYC Investment Fund and a syndicate of lending institutions led by JPMorgan Chase Bank, whose members included Deutsche Bank, Dime Savings Bank, Citibank, Fleet Bank and North Fork Savings Bank. Loan guarantees will be provided by the New York State Mortgage Agency and the Federal Section 108 Guarantee Program. The project was sponsored locally by the Malcolm Shabazz Development Corporation.
"We are proud to celebrate the success of Renaissance Plaza and proud to be a part of the overall Harlem renaissance," said Housing Partnership President George Armstrong. "This development shows how public/private partnerships can successfully revitalize neighborhoods, provide housing and stimulate economic development and business activity in our communities."
Approximately 4,000 applications were received for the one-, two- and three-bedroom apartments in. Renaissance Plaza. Units ranging in size from 750 to 1,420 square feet are priced from $4,534 to $15,394 with monthly maintenance changes of $794 to $2,696.
"The Renaissance is the largest project HDC has financed through New HOP, and it is the most symbolic of the program's versatility because it incorporates commercial space and homeownership and further demonstrates New HOP's success in promoting affordable housing development in a variety of communities, from Queens to Lower Manhattan to Harlem," said Russell A. Harding, president of the New York City Housing Development Corporation.
Tenant shareholders have already begun moving into Renaissance Plaza. Full residential occupancy in the building is expected by December. Many of the retail tenants are already operational and the remaining businesses should be open by the end of the year.
In a demonstration of support for the neighborhood, Suna/Levine, Inc. donated $5,000 to the UFA Widows and Children's Fund of the New York City Fire Department and $3,000 to Public School 149/207 located nearby on West 117 Street. Stuart Match Suna, Principal of Suna/Levine, Inc., presented checks to representatives of local Engine Company 58 in honor of their colleague, Lieutenant Robert Nagle, a victim of the World Trade Center attack and to the school for the purchase of textbooks.
"We are committed to supporting this community," said Stuart Match Suna, Principal of Suna/Levine, Inc. "These gifts honor the heroes of this neighborhood - our local firefighters, and make an investment in our future heroes, our children," he added.
Suna/Levine, Inc. is made up of Jeffrey E. Levine of Levine Builders, a Queens-based developer and contractor, and Stuart Match Suna, President of Silvercup Studios and partner in Metro Management Development, Inc. a real estate management firm.