In conjunction with the Parodneck Foundation, HPD provides loan assistance through the Senior Citizen Home Assistance Program (SCHAP). This program provides assistance in amounts up to $40,000 for a single-family house, and up to $30,000 per dwelling unit for 2-4 family houses to low- and moderate-income senior citizens age 60 or older who own and occupy one- to four-family homes. The loans vary from no-interest deferred loans to fully amortizing 3% interest loans.
Personal Story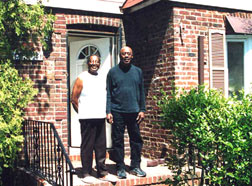 The Clarks, a couple living in Queens, had fallen behind on mortgage payments, real estate taxes, and utility payments. They had also incurred other personal debt. They were at risk of losing their home to predatory lenders until HPD and its partners intervened. Through SCHAP, the Clarks were able to reduce their monthly mortgage payments, from $2,400 to $1,043, and make necessary repairs. As a result, the Clarks can now provide a stable home for the niece and nephew they are raising.
PARODNECK FOUNDATION PHONE NUMBER: (212) 431-9700, ext. 300
Click here to learn about other building rehabilitation loans.