Urban Renewal is the legal authority by which a municipality undertakes planned and coordinated activities to redevelop entire neighborhoods. There are currently approximately 150 urban renewal areas in New York City. Each area has a corresponding urban renewal plan, which defines the area's boundaries and specifies the manner in which it will be redeveloped.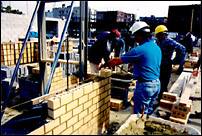 As New York City's urban renewal agency, HPD drafts or modifies urban renewal plans; seeks approval of the plans from local Community Boards, Borough Presidents, the City Planning Commission, the City Council, and the Mayor; acquires property through condemnation and other means; sells properties for the purpose of redevelopment; coordinates relocation of residents and businesses; and, coordinates redevelopment of the area.
Urban renewal plans can include any type of residential, commercial or industrial development. The Saratoga Square Urban Renewal Area, for example, is a 28-block area in the Bedford-Stuyvesant and Oceanhill-Brownsville sections of Brooklyn. This urban renewal plan was originally drafted in March 1992. The plan calls for nearly $50 million in investment to develop approximately 1,100 units of homeownership housing, the Fulton Street ANCHOR/Partnership Plaza retail project, renovation of 140 units in City-owned buildings, two parks, and related development.
For additional information on Urban Renewal, call (212) 863-8961