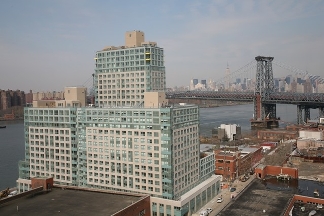 Schaefer Landing is a $47 million low-income rental building on Kent Avenue in Williamsburg Brooklyn. The Schaefer Landing development includes 350 apartments in two buildings, of which 140 are low-income rental units and 210 are market-rate condominiums. Schaefer Landing also includes 12,000 square feet of commercial space. All tenants for the affordable units at Schaefer Landing were selected by lottery with at least half of the apartments being rented to existing residents of Williamsburg.
The City paid the cost for the environmental remediation and demolition at Schaefer Landing which enabled developers to set aside 40% of the total 350 units for affordable rental housing. The City allocated $2 million, New York State's Division of Housing and Community Renewal provided $36 million in tax credits and the remainder of the project's $9 million was privately financed. The developer for both the affordable and market rate units at Schaefer Landing was Kent Waterfront Associates, a joint venture of BFC Partners, L&M Equity Participants and Allstate Realty Associates LLC. Financing was provided by the New York Community Bank, JP Morgan Chase, and the New York State Housing Finance Agency with low-income housing tax credits syndicated by WNC Associates.
This development, which occupies the former Schaefer Brewery site, highlights a key strategy of Mayor Bloomberg's housing plan, the transformation of former industrial tracts to create new land suitable for residential development.