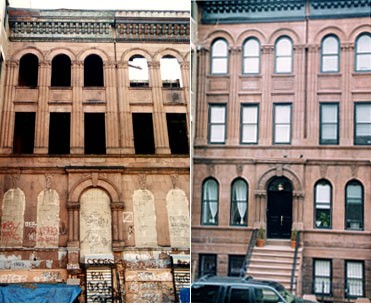 Under this program, small, vacant City-owned buildings are completely rehabilitated by experienced builders to create one- to four- family homes for sale to individual homebuyers at market prices. There are no income limits for the buyers (in a majority of the homes), nor are there any income or price limits for any rental apartments. However, the builders generally work with lenders to provide mortgages with low down payments and the lenders take the income from the rental apartments into account in qualifying homebuyers for loans thus making many of the homes affordable to moderate- and middle-income buyers.

To make the program feasible, the City conveys the buildings to the builders at nominal prices and may also provide a subsidy in the form of a zero per cent, nonamortizing loan that evaporates over a period of six years. The City also provides partial tax abatement to homebuyers for a six-year period. Where the buyer does not require a subsidy there will still be a resale restriction.

Homebuyers are selected through lotteries that are carried out by the builders under HPD supervision. Preference for 50% of the homes is given to current residents of the communities in which the homes are located, and preference for 5% of the homes is given to uniformed members of the New York City Police Department. Homebuyers are required to occupy at least one unit in their homes as their primary residence.

Some of the HUD-owned buildings that were acquired through foreclosure of federally insured Section 203(K) mortgages will be rehabilitated under the HomeWorks Program. A total of 23 homes, 21 in Harlem and 2 in East New York, were conveyed to Round III HomeWorks developers and will be marketed together with the city-owned HomeWorks homes.

Please note that HPD does not sell individual homes directly to individual buyers prior to rehabilitation. HPD works exclusively with experienced builders who are selected through a competitive process so that the homes can be completed promptly and conveyed to homebuyers in move-in condition.

PHONE NUMBERS:
If you are interested in purchasing a home, please call 311 and request a homeownership kit or see HPD Lists of Affordable Homes.
All references to servicing mortgages should be directed to the HPD Office indicated below;
NYC Department of Housing Preservation and Development
The Homeowner Mortgage Servicing Unit
100 Gold Street, Room 7-U1
New York, New York 10038
Attn: Intake Coordinator
If you need to speak with a representative of the Homeowner Mortgage Servicing unit, please call (212) 863-6914 between the hours of 10 am and 4 pm.
---
HomeWorks Personal Success Story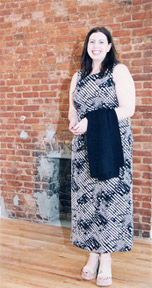 Danielle Gellella had lived in the East Village for about eight years and had seen the neighborhood being built up. Realizing that the economy made it more cost-effective for her to own rather than continue renting, Ms. Gellella decided to begin her search for a home of her own. She knew she wanted to stay in Manhattan, and she knew she wanted to live in a neighborhood on the rebound. One morning in 1998, she tuned in to the "Today Show" and found the perfect neighborhood. During a segment on the revitalization of Manhattan's Harlem community, Ms. Gellella decided to apply to the city-sponsored HomeWorks program to purchase a brownstone in the historic neighborhood.

She was selected in the lottery for the homes and picked a brownstone on East 127th Street that features a historic church and is four doors down from the home of the late poet Langston Hughes, a major literary figure in the Harlem Renaissance.

"I always dreamed of owning my own home," said Ms. Gellella. "The City helped make that dream a reality because there is no way - as a 30-year-old woman - that I'd be able to buy a home in the City without this program."