Mayor Bloomberg Announces Winner of adAPT NYC Competition to Develop Innovative Micro-Unit Apartment Housing Model
Mayor Michael R. Bloomberg, Deputy Mayor for Economic Development Robert K. Steel and Department of Housing Preservation and Development Commissioner Mathew M. Wambua announced today that the winner of the adAPT NYC Competition is a development team composed of Monadnock Development LLC, Actors Fund Housing Development Corporation, and nARCHITECTS. The development team was chosen through a competitive Request for Proposals to design, construct and operate the city's first micro-unit apartment building on a City-owned site at 335 East 27th Street in Manhattan.
Read the press release
adAPT Initiative Overview
In July 2012, the New York City Department of Housing Preservation and Development (HPD) launched adAPT NYC, a pilot program to develop a new model of housing to adapt to the City's changing demographics. HPD invited developers to submit proposals for the design, construction, and operation of a micro-unit building in Kips Bay, Manhattan. A micro-unit is an innovative apartment model, which includes a kitchen and bathroom, that is smaller than what is allowed under current regulations.
Developing housing that meets the needs of how New Yorkers live today is critical to the City's future economic success. Currently, the City's housing stock is misaligned with the changing demographics of its population. There are 1.8 million one- and two-person households (more than 60 percent of New York City households) and only one million studios and one-bedrooms to meet this housing demand. According to the 2010 Census, the growth rates of the one- and two-person household populations exceed the growth rate of households with three or more people. adAPT NYC seeks to create additional choice within New York City's housing market.
adAPT NYC has attracted global interest. As of September 2012, the RFP had been downloaded over 1,600 times in all five New York City boroughs as well as domestic and international cities including Boston, Chicago, San Francisco, Miami, Denver, London, Berlin, Paris, Athens, Hong Kong, Bangalore, and Sydney. HPD has received 33 proposals, including submissions that suggest the use of modular design and some that include sustainable design features such as solar panels.The City hopes to announce a winning proposal in early 2013.
Making of a Micro-Unit
Get a behind-the-scenes look at the making of a life-size micro-unit floor plan here.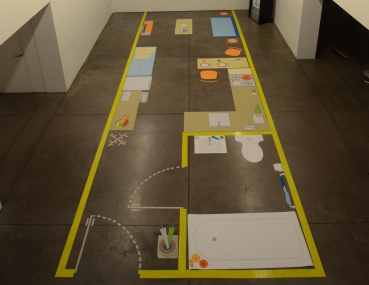 Pre-Submission Conference

TheadAPT NYC pre-submission conference took place on Tuesday, July 31st. Over 300 people attended the event at the American Institute of Architects' Center for Architecture and almost 600 people logged on to watch it live over the internet.The purpose of the pre-submission conference was to answer questions for prospective applicants regarding the initiative's Request for Proposals (RFP).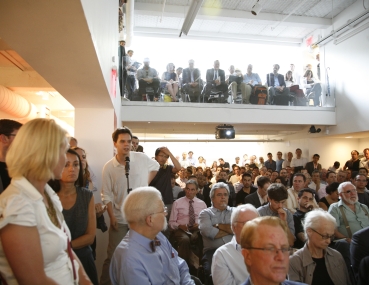 Access materials from the event here:
Watch the video of the conference here

Download the pre-submission conference presentation here

All questions/answer from the event are posted on this site (below) as an addendum to the rfp
adAPT NYC Request for Proposals (RFP)
Proposals were due by hand on September 14th, 2012.
Interested parties that choose to download the RFP using the link below must register. Only those registered will receive any updates or additional communications regarding the RFP. The RFP contains a detailed description of the development program, requirements, guidelines, eligibility requirements, selection process, and submission requirements.
For additional information, please contact adAPTnycRFP@hpd.nyc.gov
Click here to Register and Download the adAPT NYC RFP
Click here to download the adAPT NYC RFP Addendum #1
Click here to download the adAPT NYC RFP Addendum #2

The following Proposal Forms can be downloaded below.