The content on this section of the web site is being provided for informational purposes only. It is not intended to provide legal advice and should not substitute for the advice of an experienced real estate attorney. Also, the links and references to other web sites and organizations are provided for informational purposes only. HPD does not endorse any specific organization or web site and does not suggest that one source should be utilized to the exclusion of another.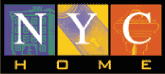 In this section you will find information about and links to a variety of programs and services that will help you in your search for a new home, including city and federal homebuying programs and non-profit counseling agencies. Although buying a home can be a complicated process, there are many non-profit and governmental organizations that can help you and make it easier to buy the home of your dreams. Don't be afraid to ask lots of questions!
Tax Breaks From the Internal Revenue Service
As a homeowner, you can deduct certain expenses from both your federal and state taxes. Deductible expenses include interest that qualifies as home mortgage interest and real estate taxes actually paid to the taxing authority. Many people find that the tax benefits of homeownership make owning a home less expensive than renting. For more specific information and instructions on tax breaks for homeowners, see the tax information for first-time homeowners on the IRS website.

Fannie Mae for Homebuyers
A mortgage can be an overwhelming financial responsibility, even with a good credit record, knowledge of how to shop around for a mortgage and money set aside for down payment and closing costs. The Fannie Mae Corporation is a large public company that buys and sells mortgages on the secondary market. That means that Fannie Mae does not deal directly with people looking for a mortgage loan, but instead works to make more money available to lending institutions, such as your local bank, so that they are able to give more mortgage loans. Fannie Mae agrees to finance mortgage loans that a bank makes to customers, and sets interest rates and down payment requirements.
As part of its corporate mission, Fannie Mae is committed to making homeownership affordable to more people. In order to make homeownership more affordable for low-, moderate- and middle-income families, Fannie Mae has developed a number of specialized mortgage products such as mortgages with lower down payment requirements or more flexible standards.
Many of the housing counseling agencies also listed in this section of the Web site are knowledgeable about these specialized Fannie Mae programs and will be able to put you in touch with banks that use Fannie Mae mortgage products. The Fannie Mae Foundation offers free booklets with information on building a good credit record, finding a mortgage and buying a home. Information is available in English, Spanish, Russian, Portuguese, Haitian-Creole, Chinese, Korean, Vietnamese, and Polish.

New York City Mortgage Coalition
Grants, loans, homebuyer education and mortgage counseling services are available through the New York Mortgage Coalition (NYMC), a nonprofit organization administered by Association for Neighborhood and Housing Development (ANHD) that helps low- and moderate-income residents of New York City, Long Island and Westchester County to become homeowners.
Homeownership counseling is provided free of charge, though a nominal fee may be charged to obtain a credit report or enroll in classes. To access these services, visit the New York Mortgage Coalition (NYMC) website for a list of the NYMC counseling groups.

Habitat for Humanity
Low-income New York City residents living in overcrowded or substandard housing conditions in Harlem, Queens or Brooklyn, may qualify for financing through Habitat for Humanity to help them purchase a Habitat home in their community. Habitat for Humanity-New York City (HFH-NYC) is a non-profit organization that seeks to eliminate poverty housing and to create simple, decent and affordable housing for individuals and families in need. In New York City, projects are both gut renovations and new construction.
In order to qualify to purchase a HFH-NYC home, applicants must: (1) presently live in unacceptable housing, be unable to buy a home through conventional means and currently pay more than 35 percent of their monthly income for rent; (2) have sufficient income must be sufficient to pay the operating costs and a share of the mortgage on the building; (3) and commit to "sweat equity" by participating in construction of a Habitat home and in the operations of the condominium or homeowners' association.
For more information, visit www.habitatnyc.org.

Department of Housing and Urban Development
The Department of Housing and Urban Development (HUD) is the federal housing agency and offers numerous services and resources for Americans interested in purchasing a home. Visit HUD at www.hud.gov
For the HUD's homeownership page, click here.
For HUD's page on mortgage borrowers' rights, click here.

Additional Resources for Homebuyers
Please keep in mind that these are only a few of the many resources available on the Internet-you can search for other sites on Google, Yahoo, Altavista, Excite, Lycos or other search engines.
Freddie Mac provides general information about homeownership, credit, and mortgages.
Ginnie Mae explains the homebuying process, loans and credit counseling.
The Mortgage Bankers Association of America offers assistance and advice to homebuyers.
The New York Association of Mortgage Brokers provides information about mortgages and how to locate a broker.
Homefair.com offers information about real estate, financing and insurance.
Homestore.com has property listings, finance information and moving tips.
Realty Locator provides real estate, brokers, mortgages, real estate news and advice.
The National Association of Realtors provides listings of brokers and available properties.
New York Realty.com has information about available properties, brokers, mortgages and insurance consultants.
SearchListing.com offers comprehensive real estate listings.
Real Estate Mall.com provides information about real estate and relocation in New York City.


Go to: