Brooklyn Nehemiah Program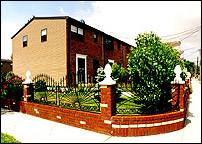 Under the Brooklyn Nehemiah Program, HPD has worked with East Brooklyn Congregations (EBC), a consortium of over thirty congregations, over the past 15 years to construct nearly 3,000 single-family homes in the East New York and Brownsville sections of Brooklyn. HPD provides subsidies to keep the homes affordable.
Gateway Estates The Nehemiah at Gateway Project will be constructed on undeveloped vacant land in a new neighborhood, Gateway Estates, near Spring Creek in the East New York section of Brooklyn. The developer is Nehemiah Housing Development Company, a housing affiliate for East Brooklyn Congregations.
In August of 2006 Mayor Michael R. Bloomberg broke ground for the latest phase of development at Gateway Estates. The development will require installation of streets, sidewalks, and storm and sanitary sewers, which will be constructed by the Department of Design and Construction concurrently with the housing and financed with funding from the sale of a parcel of land to The Related Companies. Financing for the first phase of housing (117 homes/184 units) construction will be provided by a loan through Community Preservation Corporation, (CPC) as well as loans from the Lutheran Church-Missouri Synod and the St. Paul Community Baptist Church of Brooklyn. Also for the first phase of housing, the City will provide direct housing subsidies of $46,000 for each of the single-family home, as well as $30 million in infrastructure costs.
Press Release: MAYOR BLOOMBERG BREAKS GROUND ON FIRST PHASE OF AFFORDABLE HOUSING AND THE SECOND PHASE OF RETAIL DEVELOPMENT IN EAST NEW YORK
For lists of HPD-sponsored homes that are currently available, click here.
For information about the Mortgage Services Request Procedure for the Nehemiah Program, click here.