Key Policies and Programs for the Ten-Year, Five-Borough Plan
By the Numbers
This plan lays out targets for new construction / preservation and the incomes of households we will serve. The Plan will focus on households falling into four income categories: Very Low Income (below 50 percent of AMI) (including Extremely Low Income, or below 30 percent of AMI); Low Income (50 to 80 percent of AMI); Moderate Income (81 to 120 percent of AMI); and Middle Income (121 to 165 percent of AMI).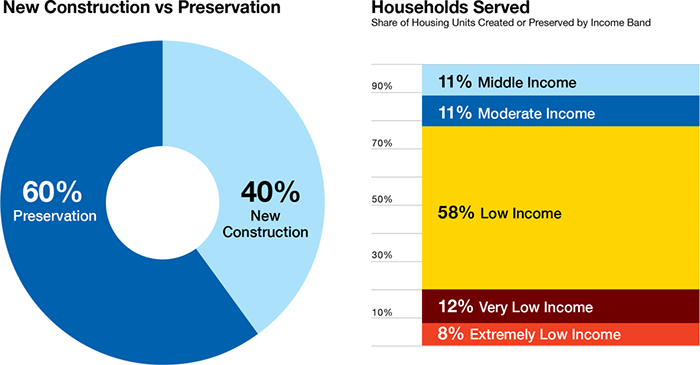 Key Policies and Programs
Fostering diverse, livable neighborhoods
Identify opportunities for affordable housing in all five boroughs
The City will work with communities to identify areas that can support new development or provide opportunities for preservation. These developments will leverage investments to meet the neighborhood's infrastructure and service needs.
Implement a Mandatory Inclusionary Housing Program
In rezonings that substantially increase potential housing capacity in strong markets, the City will require a portion of the new housing developed to be permanently affordable to low- or moderate-income households in order to ensure diverse and inclusive communities. To ensure the effectiveness of mandatory inclusionary zoning in transitioning neighborhoods, the City will provide flexible options for meeting the requirements.
Harness affordable housing investments to generate quality jobs
The construction and preservation of 200,000 units of housing is projected to create 194,000 construction jobs and nearly 7,100 permanent jobs. The City will work with communities and local stakeholders to ensure that these are quality jobs, targeted toward local hiring and integrated with the City's broader workforce development initiatives.
Preserving the affordability and quality of the existing housing stock
Protect tenants and stem the tide of rent deregulation
The City will coordinate across all agencies and use every tool at its disposal to protect tenants in rent-regulated housing from landlord harassment. In addition, we will work with the State as rent regulation comes up for renewal in 2015 to prevent abuses of the vacancy and luxury decontrol provisions and capital improvement rules.
Adopt a more strategic approach to preservation
Working with community groups, the City will identify neighborhoods and portfolios that are at risk of becoming unaffordable and proactively work with owners, lenders and investors to assure that City resources are appropriately targeted.
Introduce simple and flexible incentives to preserve long-term affordability
The City will standardize and simplify its preservation programs to make the pathway to preservation more certain for building owners and Community Development Corporations. In addition, we will work with the State to develop easy to use tax incentives for buildings that do not have extensive capital needs but are at risk of leaving rent regulation or being converted to condominiums.
Preserve the affordability of unregulated housing where rents may rise because of changing neighborhood conditions
The City will develop new incentive programs to encourage landlords in transitioning areas to restrict incomes and rents, in order to lock in the affordability of housing before the neighborhoods in which that housing is located become more expensive.
Pilot a new program to incentivize energy efficiency retrofits for small and mid-size buildings, creating energy savings and long-term affordability
To help mitigate rising utility costs and preserve affordability, the City will launch a new program to target mid-size and small buildings—in concert with local utilities and existing subsidy programs—to incentivize energy retrofits in exchange for affordability commitments from building owners.
Building new affordable housing for all New Yorkers
Significantly increase the number of units serving the lowest income New Yorkers
The City will allocate additional resources to its housing programs to ensure that a higher percentage of units in affordable housing reach the neediest people. As a result of this commitment, the City will serve more than four times as many of the lowest income New Yorkers (those earning below 30 percent of AMI) over the 10 years of this plan as were served over the previous 12 years.
Develop affordable housing on underused public and private sites
We will perform a comprehensive survey of all vacant sites in the City. We will use this tool to encourage affordable housing and mixed-use development on underused sites within our own portfolio, as well as in partnership with the State, public authorities, not-for-profit institutions, faith-based organizations, and private owners who have land that could be deployed for affordable housing.
Create two new programs to develop small, vacant sites
The City will launch two new programs, the Neighborhood Construction Program (NCP) and the New Infill Homeownership Opportunities Program (NIHOP). These programs will aggregate sites to develop affordable housing, including one- to four-family homeownership opportunities and up to 20 unit rental buildings. These programs will focus on developing capacity among smaller developers with a particular focus on local not-forprofits and CDCs.
Introduce new mixed-income programs
The affordable units in traditional "80/20" are targeted to a narrow band of households. To promote long-term community revitalization and economic diversity, we will pilot a new mixed income program that targets 20 percent of a project's units to low-income households, 30 percent for moderate income households, and 50 percent for middle-income households. Middle-income housing is essential to support our economy and workforce, which increasingly cannot afford to live in our city.
Engage New York City Housing Authority residents and the surrounding communities to identify local needs and opportunities
Over the coming months, the City will engage the residents and neighbors of NYCHA developments in a respectful conversation about local needs and opportunities. This collaborative process will focus on the preservation of NYCHA units and assess the potential for underused NYCHA land and development rights to benefit existing residents, increase affordable housing, produce local retail, and community facilities, and serve other shared goals. The City will produce a series of recommendations that will create the framework for future planning.
Reform zoning, building and housing codes, and other regulations to lower costs and unlock development opportunities
Some regulations have become outdated or have created impediments to new housing. We will re-examine parking requirements, zoning envelope constraints, and restrictions on the transferability of development rights, among other regulations. Similarly, regulations governing affordable housing programs will be re-examined to identify inefficiencies and to streamline the development review process.
Stretch the City's housing subsidy dollars further
We will revise the terms of our existing subsidy programs, and better align tax exemptions and other incentive programs to ensure that City resources are leverage the maximum amount possible from other sources, are no greater than absolutely necessary to incentivize the production of housing, and promote production of units for New York's neediest families.
Ensure sustainable affordable housing tailored to the City's demographics
The City will commit to being a leader in developing new technologies and building standards that ensure the City's affordable housing stock is both sustainable and appropriate for the needs of the City's changing demographics.
Promoting homeless, senior, supportive, and accessible housing
Shift funding from high-cost homeless shelters to lower-cost permanent housing
The City will pilot programs to reallocate a portion of shelter funding to finance lower-cost permanent housing for homeless individuals and families.
Develop more supportive housing to improve health outcomes and save public dollars
Investment in housing that is accompanied by supportive services can improve outcomes for people with mental health and substance abuse issues, while yielding significant taxpayer savings by reducing demand for high-cost shelters, hospitals, and other emergency resources. The City will seek to renew its partnership with the State to expand the supply of supportive housing and to broaden the target populations it serves.
Implementing the Plan
Funding
Creating and preserving 200,000 units of affordable housing over 10 years is a significant undertaking. We estimate the total cost, including all possible public and private sources, will be $41.4 billion. This plan lays out a series of steps we are taking to ensure this effort is a success:
The Mayor's 2015 budget will propose to more than double the Department of Housing Preservation and Development's annual capital budget in the 5-year plan, a substantial down payment on this commitment
The Mayor's budget will also propose additional funding for infrastructure investments needed to make land available for significant new housing opportunities
Through a series of new loan securitizations—immediately and over the course of the Plan, the City will maximize the resources available at Housing Development Corporation (HDC) to contribute to the Plan
The Mayor's 2015 operating budget will increase staffing at the Department of City Planning and HPD to ensure that the Housing New York plan can be efficiently and quickly implemented
We will make more efficient use of the City's resources to maximize their impact
Working with financial institutions, pension funds, financial intermediaries and philanthropy, we will also seek to leverage private capital on a greater than 3 to 1 basis
We will work in partnership with the State and the Federal government to identify new resources to fund affordable housing in the City and help us meet these critical objectives