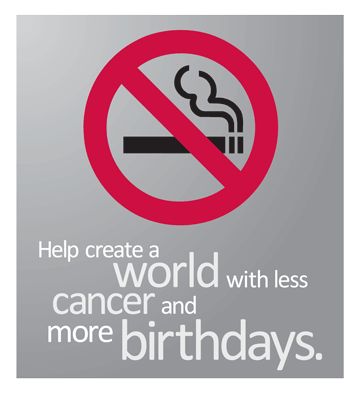 HHC is there for New Yorkers who want to pursue a healthier lifestyle and quit smoking. More than two-thirds of smokers say they want to quit, and every year, more than half try. However, without assistance, fewer than 10 percent are successful over the long term. Smokers who quit at any age reduce their risk of tobacco-related disease and prolong their lives. The QuitSmoking Clinics at public hospitals have provided comprehensive treatment for tobacco use to tens of thousands of New Yorkers. HHC offers individuals a variety of ways to stop smoking, including drug therapy, counseling and case management to help patients remain engaged in treatment. The majority of patients are treated with Nicotine Replacement Therapy and/or medications. Counseling services are customized to fit each individual "quitter." Call any of the facilities below for more information.
Click here for information about smoking and your health from the NYC Dept. of Health and Mental Hygiene.
For more information about HHC QuitSmoking Clinics, call the HHC facility nearest you listed below, or call 311.
Bronx
Segundo Ruiz Belvis Diagnostic & Treatment Center
545 East 142nd Street
Bronx, New York 10454
(718) 579-4934
Jacobi Medical Center
1400 Pelham Parkway South
Bronx, New York 10461
(718) 918-3784
Lincoln Medical and Mental Health Center
234 East 149th Street
Bronx, New York 10451
(718) 579-4934
Morrisania Diagnostic & Treatment Center
1225 Gerard Avenue
Bronx, New York 10452
(718) 579-4934
North Central Bronx Hospital
3424 Kossuth Avenue
Bronx, New York 10467
(718) 519-2425
Brooklyn
Coney Island Hospital
2601 Ocean Parkway
Brooklyn, New York 11235
(718) 616-5039
Kings County Hospital Center
451 Clarkson Avenue, Suite T-626
Brooklyn, NY 11203
(718) 245-QUIT/7848
East New York Diagnostic and Treatment Center
2094 Pitkin Avenue
Brooklyn, New York 11207
(718) 240-0600
Woodhull Medical and Mental Health Center
760 Broadway
Brooklyn, New York 11206
(718) 630-3256 (English)
(718) 630-3258 (Espanol)
Cumberland Diagnostic and Treatment Center
100 North Portland Avenue
Brooklyn, New York 11205
(718) 630-3256
Manhattan
Bellevue Hospital Center
462 First Avenue @ 27th Street
New York, New York 10016
(212) 562-4748
Gouverneur Health Care Services
227 Madison Street
New York, New York 10002
(212) 238-8070
Harlem Hospital Center
506 Lenox Avenue
New York, New York 10037
(212) 939-8222
Renaissance Diagnostic and Treatment Center
215 West 125th Street (between 7th & 8th Ave.), 2nd Floor
New York, New York 10027
(212) 939-8222
Metropolitan Hospital Center
1901 First Avenue @ 97th Street
New York, New York 10029
(212) 423-7211
Queens
Elmhurst Hospital Center
79-01 Broadway
Elmhurst, New York 11373
(718) 334-2550
Queens Hospital Center
82-70 164th Street
Jamaica, New York 11432
(718) 883-4208