FOR IMMEDIATE RELEASE
November 19, 2009
HHC Increases Palliative Care Services to
Thousands of Patients
More New Yorkers receive support to improve comfort
and manage end-of-life illnesses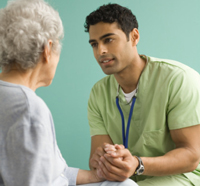 New York, NY - November 19, 2009 —The New York City Health and Hospitals Corporation (HHC) announced today that the number of New Yorkers seeking palliative care services to manage serious chronic or terminal illness has increased by 33 percent for patients at its 11 hospitals and 89 percent for those seeking outpatient services. HHC Palliative Care teams provide inpatient and outpatient services to help patients manage symptoms, relieve pain, plan medical treatment and achieve the best possible quality of life for patients and their families.

"Palliative care is a highly specialized medical service based on the principles of comfort, support, hope and dignity," said HHC President Alan D. Aviles. "The growth in our program shows that patients and families want support to make informed decisions in their own best interests as they approach the end of life, and those who are suffering from the debilitating symptoms of a terminal or chronic illness want relief so they can make the most of every day."
HHC's Palliative Care Initiative, a $3 million program that has been expanding in HHC facilities since its introduction in 2006, includes doctors, specialists, nurses, social workers, chaplains, psychologists, ethicists and others who help patients and their families deal with serious debilitating or fatal illness. HHC is a leader among public hospitals that provide palliative care to patients. Historically, palliative care has not been widely available from public hospitals across the country. HHC is now able to provide such care at all of its hospitals.
For patients facing the end of life, the HHC Palliative Care team supports patients and families to face tough and highly personal decisions about which treatments are wanted and which treatments are not wanted. Team members explain available options, including where the desired care may be best provided, and also offer guidance through ethical counseling and family meetings.
"When facing life's end, many patients feel it's also time to put an end to their dreams. But, it doesn't have to be that way," said Dr. Lauren Shaiova, a nationally renowned palliative care specialist and Chief of Pain Medicine and Palliative Care at Metropolitan Hospital. "We can help to redirect hope and set goals that are for the short-term, yet meaningful. For a young man, it may mean living to enjoy himself at his Bar Mitzvah. For an older patient with cancer, it may mean being lucid and pain-free and able to dance at his son's wedding."
HHC Palliative Care teams also serve a significant number of patients who are facing incurable diseases, yet need long-term support to manage their symptoms. They receive outpatient services to help manage pain, nausea, shortness of breath and other debilitating symptoms associated with illnesses such as cancer, lung diseases, AIDS, congestive heart failure, dementia and other serious conditions.
"Before I got help from the palliative care doctor, I spent my whole day just trying to live with the pain. My cancer doctor referred me to palliative care and it's given me relief, I now have a quality to my life. I can do things!" said Pete, a patient at Metropolitan Hospital.
For all patients, palliative care special therapy may also help with anxiety, depression, and emotional anguish.
In the last two fiscal years, the numbers of hospital patients and people treated in outpatient visits by HHC Palliative Care teams have increased significantly. In FY 2008, palliative care teams cared for 3,282 in-patients; in FY 2009, they saw 4,360, a 33 percent increase. In FY 2008, Palliative Care teams saw 987 out-patient visits; in FY 2009, they saw 1,868, an 89 percent increase.
"When my aunt came into the hospital she was very sick. She couldn't make decisions for herself and that fell to my Dad. The doctor worked with us to explain everything—all the options and to make sure we understood everything. The staff talked with us and was there to help us, not just my aunt, but the whole family. They helped her at the end of her life and this helped the whole family," said Michelle, whose aunt was a palliative care patient at Lincoln Hospital.
In keeping with the HHC mission to provide health care and services to underserved and vulnerable communities, palliative care patients are a diverse group that includes 30 percent Latinos, 27 percent Caucasians, 21 percent African-Americans and 6 percent Asians.
November is National Hospice and Palliative Care Month and HHC has planned several corporate-wide and local observances. HHC will recognize doctors, nurses and other health care workers who provide palliative care services at a senior leadership conference on Thursday, November 19th.
During Fiscal Year 2008, HHC invested approximately $3 million to develop palliative care programs for nine hospitals in the system and expand the original programs at Bellevue and Coney Island Hospitals. Other financial support for the program has come from grants from New York State, the United Hospital Fund, the HHC Foundation and the Samuels Foundation.
The New York City Health and Hospitals Corporation (HHC) is a $6.3 billion integrated healthcare delivery system and the largest municipal healthcare organization in the country. HHC serves 1.3 million New Yorkers every year and nearly 450,000 are uninsured. HHC provides medical, mental health and substance abuse services through its 11 acute care hospitals, four skilled nursing facilities, six large diagnostic and treatment centers and more than 80 community based clinics. HHC Health and Home Care also provides health services at home for New Yorkers. To learn more about HHC, visit www.nyc.gov/hhc.
# # #