Fellow workers found Naxije Selima passed out on her computer keyboard last November. Security used a defibrillator to shock her heart and EMS performed CPR. But the young mother arrived at Bellevue Hospital with no heart beat or brain function. Doctors told her husband there was only one option left to try...cardiac cooling.
"Prior to initiating therapeutic cooling for cardiac arrest patients, their chance of survival was minimal. And if they did survive they often remained in a coma or awoke with severe brain damage," said Norma Keller, MD, Chief of Cardiology at Bellevue Hospital. "Now we've cared for multiple patients after sudden death and have seen miraculous results. Naxije was one of those miracles."
The Arctic Sun cooling device used at Elmhurst Hospital.
Cooling the body has long been a technique used for treating hyperthermia. With new technologies, doctors are using this intervention with more efficiency and precision to also help patients in cardiac arrest. The approach requires that body temperature be lowered to somewhere between 89.6° to 93.2° F within four hours of the arrest. Hospitals have adopted a variety of strategies ranging from the simple use of an iced saline IV accompanied by ice packs and cooling blankets, to the more sophisticated application of "cooling suits" that wrap around the patient to continuously and evenly cool and monitor body temperature.
In Naxije's case, doctors at Bellevue saved her by using yet another technique. They inserted a special catheter in the bladder and a cooling probe in the femoral vein connected to a computerized temperature regulation system that can be adjusted to cool and re-warm the patient.
She came out of her coma forty eight hours after arrest and today is back at work and enjoying her one year old daughter, Amelie.
"After seeing how well cardiac cooling worked for Naj, we think everyone should have access to this technique," said her husband Joe Bore.
Starting this month, more New Yorkers will.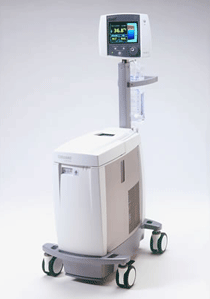 Alsius Coolgard device used at Bellevue Hospital.
New York City is taking the lead in making this life-saving emergency treatment more readily available by ensuring all FDNY ambulances transporting cardiac arrest patients bypass hospitals that do not have cooling capacity. HHC hospitals will be key destinations, since all 11 public acute care hospitals have been well-equipped to provide this new treatment.
Therapeutic cooling also shows promise for preserving brain function after stroke, brain injury, trauma, high fevers and other critical illnesses, according to studies in the New England Journal of Medicine and other top-tier journals. Despite evidence from clinical trials, endorsement from the American Heart Association and what doctors call the most promising treatment they've seen in the past 20-30 years, it is still only available in a handful of hospitals nationwide.
January 2009