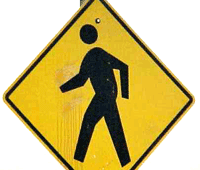 While traffic fatalities have decreased since 1990 in NYC, doctors at Elmhurst Hospital Center in Queens have continued to care for a growing number of surviving pedestrians with trauma injuries and are galvanizing the community to make streets safer along the high accident traffic corridors in the borough.
"Over the years I saw increasing numbers of pedestrians with severe trauma injuries who were brought to our Emergency Department after being hit by a car, bus or truck," said Dr. Jamie Ullman, Director of Elmhurst's Neurosurgery Department. "But nothing was more devastating to me than telling the parents of a severely injured child that he was close to death. At that moment I resolved to do something about the problem."
With data compiled from the Departments of Nursing, Neurosurgery, Surgery, and Emergency Medicine, Dr. Ullman tracked pedestrian injuries and found that from 2000-2007, Elmhurst, a Level I Trauma Center, treated over 1,600 pedestrians injured in traffic accidents. This figure is roughly equal to the number of persons treated for stab wounds during the same period of time and twice as high as the figure for individuals given treatment as a result of an assault.
The hospital's pedestrian injury research team announced these findings at the first Pedestrian Injury Summit on September 12th organized by Dr. Ullman and other leaders in the safe streets movement. The conference brought together some of the best minds in pedestrian safety to find ways to reduce the number of injuries and casualties. The gathering of physicians, lawmakers, community activists, hospital administrators and traffic safety experts from the NYC Department of Transportation, EMS and Transportation Alternatives examined the public health impact of pedestrian injuries as well as ways to eliminate the problem.
"Pedestrian safety is a critical issue for our communities," said Council Member Helen Sears. "I am proud to be able to stand with Elmhurst Hospital and do my part as a legislator to see that we utilize our resources to help increase the safety of our pedestrians."
Panelists agreed that some of the solutions should include the construction of more pedestrian-friendly walkways along busy traffic routes and the expansion of New York City's "Greenway" bike path program. They also will advocate for traffic safety education programs aimed at schoolchildren and older adults since 20% of those injured were under 18 years old and nearly 50% were over 40.
Participants from the Pedestrian Injury Summit are developing an educational outreach plan for local schools and will work with parent coordinators, principals, and PTA groups to educate parents and children about traffic safety. They have called on advertising agencies for assistance in producing Public Service Announcements on prevention of injuries and are contacting community newspapers and public access channels for help in promoting their efforts. The community outreach will be done in multiple languages to meet the needs of their diverse community.
"Public outrage is an important part of preventing these accidents," noted Dr. Ullman, "Our hope is that interest in this issue extends beyond the Summit and reaches into the broader community so that everyone can push for change."
October 2008