Walking - Good for a Hospital's Health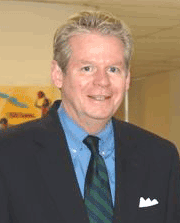 William Walsh, head of Jacobi Medical Center, has been using Executive WalkRounds to improve patient safety for three years.

Several HHC hospital chiefs have been taking long walks around their hospitals lately. They are not walking to boost their physical activity. They are practicing the concept of Safety Leadership WalkRounds™, an effective and powerful tool to promote patient safety – one of the corporation's highest priorities.
"I visit units with no advance notice.  I ask if there's anything happening that may be compromising the safety of our patients and what they think we can do better," says William P. Walsh, Senior Vice President, North Bronx Healthcare Network and Jacobi Medical Center Executive Director.  Walsh walks every Friday at 11 am.  He's been doing it for nearly three years.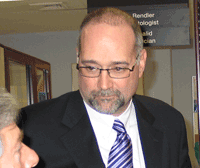 Peter Wolf, Executive Director of Coney Island Hospital, listens to suggestions about improving patient safety during regular Executive WalkRounds.


"The patients and families express gratitude, opinions and suggestions as well as complaints and dissatisfaction," says Peter N. Wolf, Senior Vice President of the Southern Brooklyn and Staten Island Health Network and Executive Director of Coney Island Hospital. Wolf has been doing patient safety WalkRounds since last July, visiting every medical-surgical unit and meeting with over 50 patients and families.
The concept of Safety WalkRounds was conceived eight years ago at an Institute for Healthcare Improvement meeting as one way for senior leaders to literally "walk the talk" about patient safety and signal a personal commitment at the top to focus on rendering safer care.  HHC has encouraged the practice among its 11 hospital executives as part of the corporation's comprehensive patient safety agenda.
The practice helps executives become more in tune with the needs and challenges facing front line healthcare staff.  And it helps staff feel they are listened to and valued, as their individual experiences and observations can lead to significant improvements in a process, system or service. 
"No complaint is an insignificant, simple or isolated problem," Walsh says. "Food service and maintenance staff contribute to these discussions as much as our nurses and physicians."
During his walks, Walsh has uncovered potential safety risk to patients that have led to the creation of a more efficient and accurate labeling of specimens in the ER, putting multiple safeguards in place to insure that patient food allergies are properly considered and avoided during meal preparation, and ensuring the proper amount of clean linens is always stored.
HHC hospital executives approach these safety walks in a variety of ways.  While some go at it alone, Walsh prefers to involve senior managers such as the chief patient safety officer, chief operating officer, chief of nursing and/or chief medical officer and a communications officer.  A scribe is always part of Walsh's team. The problems and complaints raised during the safety walk are noted and added to a database.  Once a problem has been identified, the appropriate staff is given two-weeks to have a corrective action plan in place.  As an added personal touch, the person who generated the report is officially thanked by Walsh as well as notified about the improvement change they helped put in place.
"By walking, you learn that patient safety is a universal concern of our staff.   If I had to sum up what I have learned from my walks," says Walsh, "it is that, if you don't do it, there are some patient safety problems and concerns that you might never hear about any other way."

April 2008