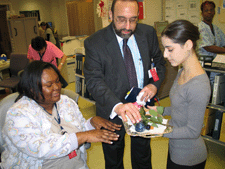 Reverend Steven Schlissel blesses the hands of healthcare workers at Coney Island Hospital.
For the New Year, Reverend Steven Schlissel, a chaplain at Coney Island Hospital performed a "Blessing of the Hands" for the staff. Every worker at the hospital was invited to have their hands anointed with fragrant oil, while Reverend Schlissel prayed for their hands to be used wisely and effectively in 2008 and beyond.
"The ceremony shows appreciation for the many tasks that the staff is called upon to do for patients. Our goal was to raise consciousness among our employees that helping patients is sacred work and that their hands are the instruments through which the healing process begins," Reverend Schissel said.
Blessing hands is one of many tasks and activities led by HHC hospital chaplains, who provide spiritual care and bereavement support to meet the needs of patients, their families, and significant others. Chaplains in the public hospitals are considered critical links between staff and patients and key members of healthcare teams. There are 52 chaplains employed by HHC, who address the needs of patients and staff 24/7. All of the chaplains are trained in the complex clinical, ethical and legal issues that face patients, family and staff members. Of course, patients are free to have their own spiritual advisor come to visit as well.
Coney Island Hospital has three chaplains besides Reverend Schlissel: Imam Mohammed Ibrahim, Rabbi Max N. Schreier and Father Joseph Quigley. The hospital also employs a Catholic nun who works in the Palliative Care Center. There are similarly diverse chaplain teams at many other HHC facilities.
"What makes the pastoral team so special is that the chaplains view their mission as serving the religious needs of all the patients regardless of their religious beliefs," says Brian Palmer, Coney Island's associate executive director. "Our chaplains minister to all of our patients and have rotating duties in the admissions and emergency rooms."
The Pastoral team at Coney Island serves a patient community that is very diverse, including a large Russian community (Brooklyn is home to the largest concentration of Russians in the United States) and more recently, a huge influx of Pakistani immigrants, most of whom are Muslim. In fact, Coney Island Hospital was the first HHC facility to house a mosque and serve halal food. The hospital plans to double the size of the mosque in the near future and Imam Ibrahim also conducts services for Muslim staff on a regular basis.
Families and staff look to chaplains for guidance on complex ethical and moral issues including medical futility, nutrition and hydration, and organ and tissue donation. There are also interpersonal family issues as well. Many times there are family members who have not seen each other for years, family members who don't get along, or have different ideas about the care their loved one is or should be receiving. "All of these areas are quite complex," Father Quigley says. "Each situation is different and there are no easy answers. We work with the patient, the family, and the medical staff to help reach a consensus."
Many of the staff also have developed close relationships with the chaplains, turning to them for guidance not only in the work they are doing with patients, but in their personal lives as well. Rabbi Schreier reports that over the years he has had the pleasure of officiating at a number of staff member weddings. And to that we say Mazel Tov!
January 2008