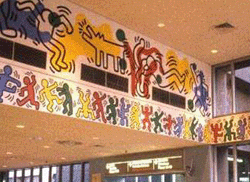 Keith Haring mural at Woodhull
Friends of HHC will soon be receiving a special holiday greeting card featuring art from a special mural created at Woodhull Medical Center by internationally recognized artist Keith Haring. Haring, who died of AIDS-related complications at the age of 31 in 1990, chose Woodhull as the location for this gift due to the hospital's dedication to pediatric AIDS research and treatment.
The Keith Haring card is the first of a series of holiday cards that HHC will produce based on the diverse collection of art that has been donated to New York public hospitals since the 1930s.
Keith Haring
Over the period of one week in 1986, Keith Haring made Woodhull his home as he perched on a scaffold, painting a brightly colored parade of fun and friendly characters playing and dancing. During breaks from his work, he would join hospital staff, patients, visitors and fans to sign autographs and create designs on poster boards and t-shirts for anyone who approached him.
The Haring murals with their "colorful frieze of characters" welcome visitors in the main lobby of the hospital and escort them through two separate corridors. Over the years Woodhull Medical Center has had many alterations, but the Haring murals remain untouched and are a centerpiece of the HHC's highly regarded art collection.
In addition to the walls at Woodhull, Haring's work can be seen today in the exhibitions and collections of major museums around the world. Haring's urban style reflected the street culture of New York. Throughout his career, Haring devoted much of his time to public works, which often carried social messages. The same year he created the murals at Woodhull, Haring created a mural for the 100th Anniversary of the Statute of Liberty and the "Crack is Wack" mural on a handball court at 128th Street and 2nd Avenue that became a widely known symbol to chronicle the crack epidemic and its devastating effect on New York City.
Keith Haring recognized HHC's commitment to AIDS treatment back in 1986 and the public hospitals' vigorous fight against the disease continues today. By providing wider access to HIV rapid testing, Woodhull and other public hospitals are increasing the number of people who get earlier and potentially life-saving diagnoses. During the past two years, HHC has more than doubled the number of people tested from 62,000 to nearly 134,000. (See related article "HHC Announces Dramatic Expansion of HIV Testing.")
December 2007