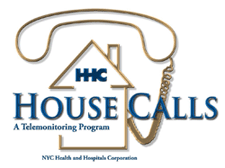 Thanks to House Calls, HHC's new telemonitoring program, many diabetic patients are getting expert, personalized health care every day, without leaving the comfort of their home. The program has dramatically improved health outcomes for patients, with 78 percent experiencing a decrease in their hemoglobin A1c levels – the best measure of blood sugar control.
HHC recently celebrated the one-year anniversary of the program, which was initially developed as a collaboration of HHC Health and Home Care, Metropolitan Hospital and MetroPlus Health Plan. Beginning in October 2006 with 2 patients, House Calls is now available in all HHC facilities, has reached 121 patients, and is growing fast.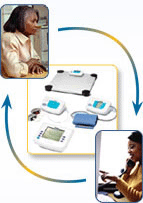 "House Calls is a unique partnership between HHC, health care providers throughout the city hospital system and diabetic patients. It's proving to be one the best tools we have in addressing the epidemic of diabetes and teaching diabetic self-management to our patients," said Ann Frisch, Executive Director of HHC Health and Home Care.
The House Calls program is open to patients with uncontrolled diabetes who have been referred by their doctor. Although participation in the program is completely voluntary, 90% of the referred patients choose to participate.
Patients are given a glucometer that connects to a small telephone modem that is easily installed in their home. Patients obtain their daily values and with the push of a button the automated readings are sent to skilled clinicians on the telehealth team on the program's toll free phone line. Readings that are outside parameters set by the patient's physician send automatic alerts to House Calls staff, who guide the patient back to a controlled blood sugar level, usually before a health crisis requires an ER visit or hospitalization.
"Patients learn in real time how certain foods and exercise effect their blood glucose levels, something that rarely happens at a clinic visit, when recall of past events has become foggy," said Alan Sacerdote, Chief of Adult Endocrinology, Woodhull Medical Center.
The House Calls staff nurses call each patient one or more times each week to discuss blood sugar readings, develop weekly meal plans, and discuss strategies to control blood sugar.
"Successful self management of chronic disease requires learning new skills and changing behaviors. The lessons must be repetitious but pleasant for the patient, provided in small doses, when the patient is receptive to learning," said Susan Lehrer, RN, Director of House Calls. "Telehealth provides us with all of the necessary ingredients for excellent patient outcomes."
The House Calls team doesn't just pay attention to abnormal results. Patients are highly motivated by the staff's recognition of their efforts to effectively manage their disease. Further encouragement and support in the form of healthy tips, clinic appointment reminders, and medical reports that chart their improvement in blood sugar trends are shared by mail.
"House Calls provides a warm and caring person on the other end of the phone. This is an essential element for success and until there's a cure I believe that programs like House Calls are the future of diabetes care," added Dr. Sacerdote.
"This program has meant everything to me," said John D., a House Calls patient. "I have someone I can call whenever I need advice and they know me. I think of them now before I eat and am able to plan my foods better now. I couldn't have done this without House Calls."
December 2007