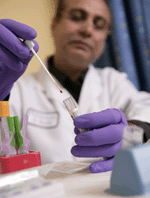 On the eve of this year's World AIDS Day, HHC President Alan D. Aviles and New York City Council Speaker Christine C. Quinn announced that the city's public hospitals tested nearly 134,000 patients during Fiscal Year 2007 – a 116 percent increase over the 62,023 tested two years earlier. They credited the increase largely to a strategy to make HIV rapid tests part of routine medical care for patients ages 13 to 64.
"We're now reaching more teens and young adults - the age group where half of all new HIV infections occur," said HHC President Alan D. Aviles. "By making testing available as a routine medical screening we can help overcome the stigma and barriers associated with the disease and reach more New Yorkers who may be HIV positive and not know it."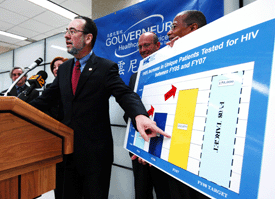 HHC President Alan Aviles at Gouverneur Healthcare Services to announce the dramatic increase in HIV/AIDS screenings at HHC facilities.
(Photo credit: William Alatriste/New York City Council)
The public hospitals have dramatically expanded rapid testing beyond the care centers where screening had primarily been offered in the past. Now, in addition to AIDS centers and prenatal care clinics, patients are offered HIV testing when hospitalized, in hospital emergency rooms and in many out-patient clinics.
As a result of the testing between Fiscal Years 2005 and 2007, over 1,600 people were newly diagnosed as HIV positive, giving them access to more effective care. HHC's goal is to provide 150,000 HIV tests in the fiscal year ending June 30, 2008.
"The HIV/AIDS epidemic continues to be one of the greatest health challenges facing our City. Therefore, providing resources for HIV/AIDS prevention has become a major priority for the City Council," said Speaker Quinn. The City Council allocated more than $14.5 million since Fiscal Year 2005 and another $5.6 million this fiscal year to support HHC's HIV test expansion.
The dramatic increase in HIV tests provided by HHC is only the latest strategy in the long-term battle New York City hospitals have fought against the epidemic since it was first identified in the early 80s. (See separate story "Holiday Greeting Pays Tribute to AIDS Treatment at Woodhull.")
As HHC hospitals worked to give more rapid tests to patients, one of the challenges they faced was to improve the efficiency with which they could counsel patients before and after each test. Using innovative tools like educational videos on interactive touchscreen PCs and New York State's more flexible revised guidelines, they were able to reduce the total counseling time for each patient from 2 hours to about 30 minutes. And counselors are freed up to focus on giving support to the HIV positive patients who need them most.
"Using rapid HIV tests gives us the time to listen to our patients," said Sandra Burrell, an HHC HIV Counselor. "We provide immediate counseling to patients who test positive, and link them to follow-up care and life-extending drug therapies."