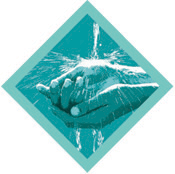 Ask HHC clinicians about the "black light" test and they'll tell you it is illuminating. The simple covered table-top box with a fluorescent bulb is an innovative way to demonstrate the importance of thorough handwashing. Caregivers apply special "glo-in-the-dark" lotion to their hands, wash them, and then use the black light to reveal what they "missed" - the spots of the lotion they failed to remove.
Collecting cultures from hands is another sobering way to test proper handwashing.
"Showing staff that they carried large numbers of pathogenic, disease-causing bacteria on their hands was a wake-up call as was the knowledge that they had a choice; to follow healthy hand hygiene and keep their patients healthy or to transfer potentially deadly bacteria to them if they did not," said Edward Fishkin, MD, Woodhull Medical Director.
Proper hand hygiene is a year-round effort at HHC hospitals and health centers and a key component of its ambitious patient safety program to make HHC among the safest hospital systems in the country by 2010.
According to the federal Centers for Disease Control and Prevention (CDC), proper hand hygiene is the single most important factor in protecting patients from hospital acquired infections. Recent concerns about antibiotic-resistant MRSA infections have also put the spotlight on the importance of hand hygiene at home and schools.
Dr. Fishkin notes how Woodhull's high compliance with handwashing has helped the facility reduce infections, including being able to achieve the notable rate of 12 consecutive months without a single case of ventilator-associated pneumonia among its fragile ICU patients.
In recognition of National Handwashing Awareness Week, December 2 -8, more black light boxes are certain to be used as part of a number of creative approaches and educational activities HHC facilities will be hosting to get the word out to staff and patients about the important role that hand hygiene plays in keeping patients safe. HHC facilities will also distribute handwashing tips in multiple languages as well as hand sanitizing gel for patients, staff and visitors.
Here's the proper way to wash hands:
Wet hands and apply liquid, bar, or powder soap.
Rub hands together vigorously to lather and scrub all surfaces.
Continue for 15-20 seconds! It takes that long for the soap and scrubbing action to dislodge and remove stubborn germs.
Rinse hands well under running water.
Dry your hands using a paper towel or air dryer.
If possible, use your paper towel to turn off the faucet.
If hands are not visibly soiled -
An alcohol-based hand rub or gel may be used in place of soap and water.
Apply product to the palm of one hand and rub hands together, covering all surfaces of hands and fingers.
November 2007