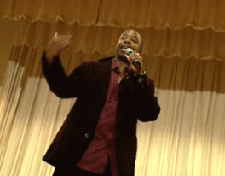 Doug E. Fresh
"F" is for the Face
"A" is for the Arm
"S" is for the Speech
"T" is for the Time
Time to do what?
"Call 911!"
Time to do what?
"Call 911!"

Thanks to the vision of an HHC stroke expert, lively hip hop music has brought life-saving information to over 1500 young children in Harlem about how they can help their loved ones avoid the most devastating effects of strokes.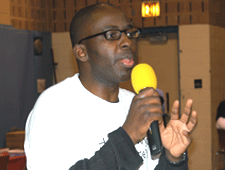 Dr. Olajide Williams, Director, Harlem Hospital Stroke Center
"In the United States, stroke is a leading cause of adult disability and the third-leading cause of death, "says Olajide Williams, M.D., Associate Director of Neurology at Harlem Hospital and Director of its Stroke Center.
"For African-Americans, the picture in New York City and the nation is very bleak," Dr. Williams says. "African Americans between 34 and 55 have the highest stroke death rates, and are 3-4 times more likely to suffer a stroke than white Americans. Yet as a group they are less likely to receive or ask for information on how to decrease, prevent, or manage stroke."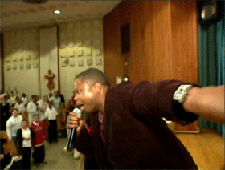 From the National Stroke Association, Dr. Williams learned about the Hip Hop Stroke project to teach children and families about stroke. The idea was to use this universally popular music so that children would not only get valuable information, but would retain it. They learn about lifelong health habits to keep blood pressure down and prevent stroke, and how to recognize stroke symptoms quickly so they can call 911 if they suspect a problem. Because of the short time available for effective treatment, quick action is vitally important.
"Despite the program's title, there was no hip hop music in the program originally," Dr. Williams says. "I helped write the lyrics of the songs to ensure that they included the symptoms of strokes and the right messaging. When we recruited Hip Hop Hall of Fame artist Doug E. Fresh to work with the program, our success was assured."
The Hip Hop Stroke Program is part of Harlem Hospital Center Stroke Center's multi-year Stroke Initiative to provide screening services and educate the community to recognize stroke symptoms. It is funded, in part by a $25,000 grant from the HHC Foundation and another $25,000 from JP Morgan Chase, who will be holding a prospective funders' meeting to expand the program to Lincoln Hospital in the Bronx, another one of the eight HHC hospitals that have been designated as official Stroke Centers by the New York State Health Department.
"It is my goal for New York City and New York State to be a model for the nation and the world in preventing strokes," Dr. Williams says. The fact that we can teach kids about stroke in a fun, upbeat way is very inspiring to me and I hope it inspires others as well."
October 2007