Home is Where the Help Is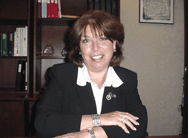 Ann Frisch, Executive Director, HHC Health and Home Care
For the new chief of HHC's Health and Home Care agency, ensuring a seamless transition from the care provided by HHC facilities to home-based care is key to providing high quality, effective and efficient community based services that ultimately help many of their 1,300 patients postpone or avoid further hospitalization.
"We integrate services so that the health progress of our patients can be supported at all levels of care, including when they go home or when they avoid hospitalization and remain in the community," said Ann Frisch, RN BSN, MBA, who was appointed Executive Director of HHC Health and Home Care in March after eight years as the Deputy Executive Director. "A patient whose condition improves while hospitalized or who is seen routinely in clinics may not need constant attention. But, they may still require nursing or therapy services. That's where we come in."
Frisch's priorities in the home health agency strongly echo the same focus that HHC has been placing on patient safety, chronic disease management and palliative care throughout its facilities. Patient safety issues like fall prevention and medication safety are a top concern for home health workers. Helping patients to self manage chronic diseases like diabetes or asthma is also a key focus. And the home care nurses provide palliative care to help patients and their caregivers manage pain and end of life issues when they are facing end-stage terminal illness.
"We're also pushing to integrate technology into all facets of our business processes as well as our clinical care," Frisch added. "The effectiveness of health care in the home can be greatly enhanced by creative uses of technology."
One of the technology efforts Frisch has helped develop is the "House Calls" telemonitoring pilot program HHC Health and Home Care now oversees for 50 diabetic patients in collaboration with Metropolitan Hospital and MetroPlus Health Plan.
Patients upload their clinical information, such as blood pressure and glucose readings, once or twice daily, using their telephones. Nurses in the House Calls program review the readings and, when results are outside pre-established parameters set by their physicians, call the patient to discuss what actions they may need to take regarding medication compliance, diet or exercise to improve their results. The nurses also call patients who show readings in line with evidenced based practice guidelines to give them positive reinforcement and encourage them to stay on track. So far, early trials have shown that after three to six months, blood glucose levels for most of these severely diabetic patients are being reduced by an average of 25 to 30 percent. Bringing blood glucose levels under control also helps prevent some of the serious and expensive complications of diabetes, which can be as severe as blindness, end stage renal disease or losing a limb.
With the transformation in 1999 of six separate home health agencies into a single consolidated agency, Health and Home Care has strengthened HHC's ability to participate fully in the continuum of care as healthcare services increasingly move from institutional settings into the community and patient homes.
May 2007