Opal Goodridge, DDS, Director of Dentistry at Coler-Goldwater Specialty Hospital
Her trip to Sierra Leone took two days. It was long and arduous and marked by frequent inspections by custom officers who carefully examined the dental equipment she was carrying.  But she knew it would be worth it.
"There was always a crowd waiting to be seen. The people were very happy to see us and thanked us even though we could not spend as much time as we would have liked with each patient and had to turn people away due to time constraints," said Opal Goodridge, DDS, Director of Dentistry at Coler-Goldwater Specialty Hospital and Nursing Facility and president of its Medical Staff.
Dr. Goodridge's trip in June of 2007 was arranged by the Women for Women of Sierra Leone, Inc. (WWSL) a non-profit, non-partisan organization to help improve the lives of the women and children in the country.  According to a United Nations report, it is the poorest nation in the world.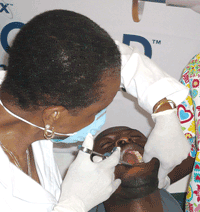 Dr. Opal Goodridge bringing oral health to patients in Sierra Leone.
"I went to Sierra Leone as part of a mission team of eight people. Besides me, there were three educators, a physician, a technician, and two support staff."
Dr. Goodridge, who had never been to Africa before, was persuaded to go when Dr. Muriel Petioni, pediatrician, who is known as the mother of medicine in Harlem, visited Coler-Goldwater and made a presentation to the staff on the desperate plight of Sierra Leone which is slowly recovering from a decade-long civil war.
"At Coler-Goldwater, we have a dental staff of close to 40 people. There are not even that many dentists in the entire country of Sierra Leone," Dr. Goodridge says.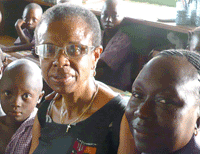 Dr. Goodridge with her patients in Sierra Leone.
She spent 10 days taking care of the dental needs of the adults and children, and in one afternoon evaluated and treated 60 pre-kindergarten students. Every child received fluoride treatment, prophylaxis and a gift bag.
She says that the program needs many more volunteers, but one must be prepared as it is not an easy trip to undertake.
"It takes two days to travel back and forth. There are no conveniences, the accommodations are minimal, and there is no one to assist you in your work," Dr. Goodridge said, noting that she had to develop her own X-rays.  "It is constant work and you leave knowing that there is so much more that needs to be done. But, you also leave knowing that you did your best, and what you did made a difference in the quality of life of the people you helped."
Dr. Goodridge was born in Jamaica. She received her doctoral and baccalaureate degrees from Howard University in Washington, D.C. and her Masters in Public Health from the University of North Carolina at Chapel Hill. She has two sons and eight grandchildren and in her spare time likes to crochet, do Bible study and travel.

April 2008