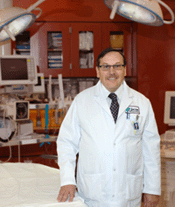 Dr. Bruce Greenstein has been the director of Jacobi Medical Center's Burn Center since 1996. The Center has an international reputation for its outstanding clinical research and teaching programs and pioneered early surgical intervention to preserve skin and minimize infection and injury.

"When you tell people you are a plastic surgeon, most people think you are spending your days doing cosmetic procedures such as nose jobs or breast enhancement. Plastic surgery for burn patients is very different," says Dr. Greenstein. "You have to remove dead, burned skin and replace it with artificial skin because the burn patients do not have enough healthy skin for grafts."

Dr. Greenstein's skill as a plastic surgeon is highly regarded by his colleagues. He gained national attention in 1997 as director of the medical team that treated the widow of Malcolm X, the late Dr. Betty Shabazz, who tragically suffered burns on over 80 percent of her body and was treated at Jacobi for three weeks.

Dr. Greenstein speaks warmly about the inspiration he receives from his patients.

"I have the deepest respect for these patients, because they must overcome both the physical trauma of the injury and deep psychological scars," Dr. Greenstein says. "Many burn victims have lost loved ones in a fire. They have to face the fact that life will never be the same and they might not be able to return to their home or the life they once knew."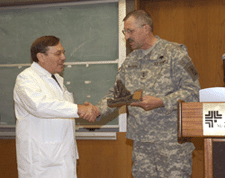 Maj. Gen. Robert Kasulke, the Army's surgeon general, presents Dr. Greenstein with a Combat Medic Army Statue appreciation award

The Jacobi Burn Service was recently in the limelight when Maj. Gen. Robert Kasulke, the Army's surgeon general, presented Dr. Greenstein with a Combat Medic Army Statue appreciation award for his leadership of the Trauma Training Program. This intense course is part of the National Guard pre-deployment training program for military personnel headed to Iraq and Afghanistan. Since 2004, a two-week course has been offered at Jacobi and Kings County Hospitals. The burn treatment training enhances skill and reduces anxiety for clinicians who do not ordinarily provide burn care. Hundreds of physicians, nurses, respiratory therapists, pharmacists, medics and other military personnel from all over the country have participated.

Dr. Greenstein received his medical degree from SUNY Upstate Medical University. He did his training in general and plastic surgery at Montefiore Hospital and at Albert Einstein College of Medicine. His wife is an ophthalmologist in private practice. He has a son who is a second year medical student at Einstein, a daughter who is in her first year of law school and a daughter-in-law who is a second year dental student.

An avid history buff, he collects the autographs of famous people, including sports legends and an autograph from every President of the United States.

February 2008