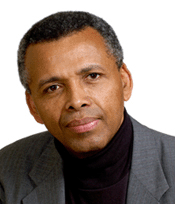 Reverend H. Hugh Maynard-Reid
When Governor Eliot Spitzer appointed H. Hugh Maynard-Reid, D.Min., BCC., CASAC, the Director of Pastoral Care Department in the North Brooklyn Health Network, to serve on the Ethics Committee of the Empire State Stem Cell Board, he chose a man who is not only a thoughtful and well-respected religious leader, but an Old Testament scholar who also happens to be a private pilot and amateur radio operator. And if you need a notary, well he can do that as well.
Upon hearing of the appointment, HHC president Alan D. Aviles said that the appointment not only honored the Reverend, but the entire public hospitals corporation and Woodhull Hospital, where he has been Director of Pastoral Care since 2001.
The Board was established to oversee and administer $600 million in funding for the Empire State Stem Cell Trust Fund to promote stem cell research and development. Reverend Dr. Maynard-Reid was one of 11 appointees to the Board.
"Albert Einstein once remarked that religion without science is lame." Rev. Dr. Maynard-Reid says. "Issues relating to both the beginning and ending of life can be vexing for many but intelligent, knowledgeable, well reasoned, balanced arguments ought to be put forth and followed. Emotional and distorted statements often cloud issues. This makes it imperative for the scientific and theological/philosophical communities to come together, listen to each other, ask the right questions and come to acceptable decisions."
The North Brooklyn Health Network has a team of chaplains that includes two Roman Catholic priests, a Catholic nun, Muslim, Jewish, Protestant chaplains and 40 volunteers including Buddhists monks and Jehovah Witnesses. The department's mission is to provide and develop the delivery of Pastoral Care as an essential part of holistic care within the network and related communities through visitation, counseling, spiritual, cultural and emotional support; worship and sacraments; advocacy; mediation and education. (See related story, "HHC Chaplains Offer Guidance to Patients, Families, Staff".)
Over the years Rev. Dr. Maynard-Reid has come to learn and appreciate that care giving and care receiving are viewed differently by individuals depending on their cultural and spiritual background.
"I function not only as a religious person but as an intelligent individual. As such I can hear and work with those who are hostile to religion and who may also be ignorant of its terms. My focus is on the patient or staff member who has come to me for help. My underlying question is always – What is the wise thing to do at this time?"
Rev. Dr. Maynard-Reid is a Board Certified Chaplain and a New York State Credentialed Addiction and Substance Abuse Counselor. He was also certified by a joint program of Albert Einstein College of Medicine and Cardozo Law School in Human and Medical Bioethics. Before coming to HHC, he was a minister for 15 years in New York City. He also was the Associate Professor of Old Testament and Biblical Studies at Northern Caribbean University in Jamaica and Adjunct Professor at Andrews University in Michigan.
His wife of 35 years is a teacher and social worker. They have two children, a son who is a physical therapist and a daughter who is a graphic designer. He loves to travel, take photographs, and garden.
January 2008