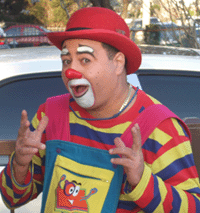 Cyrus Zavieh, AKA Cido the Clown, Elmhurst Hospital
"If I can make a person laugh and forget about his pain for a few minutes, I've done my job," says Cyrus Zavieh, AKA Cido the Clown. "Monday through Friday I wear a jacket and tie; I have to be very serious. On the weekends, I'm a clown and get to make people laugh. It's a good balance."
Zavieh has been with HHC for 14 years. As Assistant Director of Elmhurst Hospital's Emergency Room, he helps maintain order, by controlling patient flow and working with the ER nurses to get admitted patients to their beds as quickly as possible. He also makes sure that the department is fully stocked with supplies.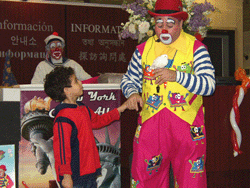 Inspired by the movie Patch Adams, which starred Robin Williams as a medical doctor who used humor in his practice, Zavieh decided to become a clown. After training with the World Clown Association, he started entertaining children and adults, and has been doing it now for over 8 years.
"Let's face it, when a person comes to the ER, they are not happy and there are whole families worried. It is not a fun situation. As anyone who has ever worked in an ER knows, there is a lot of tension because of the serious work that is taking place," Zavieh says. "There is no room for a clown in the ER, but for young children and the elderly who have to stay in the hospital, a clown can bring great solace and much needed laughter."
Zavieh is a member of World Clown Association and Clowns of America International. Locally, he is President of New York Clown Alley -- 65 clowns who meet once a month at Elmhurst. They do fundraisers and entertain children and geriatric patients. After Hurricane Katrina, they raised money for HHC to give to affected public hospitals in the Gulf region. They also do fundraising for the American Cancer Society's Making Strides Against Breast Cancer walk.
Zavieh speaks both English and Spanish, and for the past four years, he has entertained the crowds at the Puerto Rican Latin Festival in Astoria Park. And when Mayor Bloomberg needed help entertaining over 200 children in Queens Hospital during Christmas, Cido the Clown was called.
His wife, Margarita, is a big supporter as are his children, Bigon, age six and Jasmine, age three. Zavieh says that his son came to every show he did last summer, learned the act and joined in the entertainment.
Zavieh earned second place at the World Clown Association convention last year in Las Vegas (out of 500 clowns) in the category of best costume and makeup. At Clownfest 2007 in Seaside Heights, NJ, he won the top prize in the same category.
"My goal is to be the best clown in the world. My dream is to one day set up Caring Clown Units in hospitals so children and adults can go see a clown whenever they feel the need."
To learn more about Cido, go to his website at www.cidoclown.com.