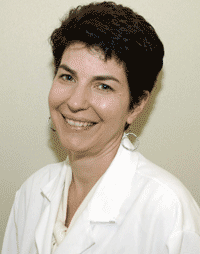 Dr. Christina Coyle, Jacobi Medical Center
When most people think of tropical diseases, they think of leprosy and cholera. In poor countries, measles, hookworm infestations, and amoebiasis are common. Due to the widespread use of vaccines and improvements in housing, diet, sanitation and personal hygiene, these diseases have mostly disappeared from developed countries.
However, ease of travel and a growing immigration population has meant that more New Yorkers are being exposed to tropical diseases, like malaria and chagas disease.
Thanks to the work of Christina Coyle, MD and her colleagues, HHC's Jacobi Medical Center is gaining national recognition for its infectious disease work in Tropical Medicine.
"We are getting referrals from doctors throughout the tristate area," Dr. Coyle says. "Many of the patients who come to us have complex problems that require special treatment. Last year, we saw 169 patients with tropical diseases at Jacobi. We do screening, diagnosis and treatment. Our work in Tropical Medicine helps make Jacobi unique."
Dr. Coyle was featured on a Good Morning America segment called "Women Who Can Do it All." She certainly qualifies. An expert in diseases caused by parasites, she is Director of Clinical Infectious Disease at Jacobi Medical Center and was just appointed Assistant Dean for Faculty Development at Albert Einstein College of Medicine. She is also Jacobi's Hospital Epidemiologist and serves on the Board of the Infectious Disease Society of New York.
Chagas disease, for example, is on the rise in the United States and Jacobi is one of the few places that screens and treats patients for it. The disease is caused by the parasite Trypanosoma cruzi and is transmitted to animals and people by insects. It is estimated that as many as 8 to 11 million people in Mexico, Central America, and South America have Chagas disease, most of whom do not know they are infected. If untreated, infection is lifelong and can be life threatening.
"Our expertise in treating tropical diseases makes me very proud," Dr. Coyle says. "We also report our cases, while maintaining patient confidentiality, to the GeoSentinel, a network of travel/tropical medicine clinics initiated in 1995 by the International Society of Travel Medicine (ISTM) and the Centers for Disease Control."
Dr. Coyle's national reputation has made her the logical choice as Jacobi's Infection Control Director, a position key to HHC's patient safety initiative. HHC has made prevention of hospital-acquired infections a centerpiece in its campaign and Infection Control Directors oversee a range of precautions, from hand hygiene compliance to prevention of surgical site infections to more specialized areas like Dr. Coyle's Tropical Disease focus.
Dr. Coyle graduated from SUNY Downstate Medical School. She began her residency at Jacobi and became chief resident. She worked at Montiefiore Hospital as well. Dr. Coyle met her husband at medical school and they have two children, Nicholas who is 5 years old son and Olivia who turned one on Thanksgiving. Dr. Coyle has been taking ballet since she was 8 and still takes classes every weekend.
"I think that when you like what you do, you are able to get a lot accomplished," Dr. Coyle says. "I enjoy working with my patients, doing research and teaching. And I have wonderful colleagues. My job is challenging, but it is very rewarding."