Gouverneur Healthcare Services
broke ground for a major $180 million building and renovation project on the lower east side of Manhattan. The new facility, which will be completed by 2012, will house a new ambulatory care pavilion and will serve 15% more patients annually. It will also create a 295-bed modern nursing facility designed to provide residences in home-like private rooms and suites.
Click here
to view renderings of the new building.
---
Jacobi Medical Center opened a new Ambulatory Care Pavilion at a ribbon cutting ceremony attended by Mayor Michael Bloomberg and HHC President Alan D. Aviles. The $73 million project houses four stories of modern outpatient suites for adult and pediatric primary care and specialty services. The new pavilion will expand access to preventive health services, build capacity for advanced technology and is expected to accommodate 380,000 patient visits annually. Click here to see photos of the new Pavilion.
---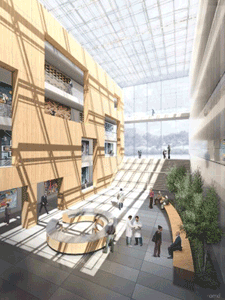 Light drenched atrium in new Harlem Patient Pavilion - Artist's Rendering
Harlem Hospital Center celebrated the start of construction of its new patient pavilion, part of the hospital's $319 million Modernization Project. The changes will integrate inpatient, emergency room and outpatient services to meet the growing needs of the Harlem community. The new pavilion will house a new emergency department, surgery department, diagnostic and treatment services, a critical care suite and a modern radiology center.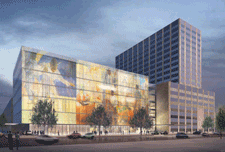 Harlem Hospital Modernization - Artist's Rendering
October 2008