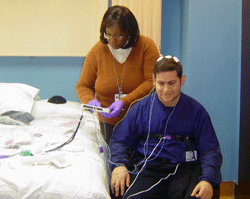 Kings County Hospital patient prepares for sleep study

If you are among the one in four New Yorkers who have difficulty sleeping through the night, you may be able to get better shut-eye with a few simple changes to your lifestyle and bedtime habits. ("How To Keep Your New Year Resolutions" – HHC TODAY January edition) But, if you have a more serious sleep disorder, you may require the expert medical care available in the newly expanded sleep lab at Kings County Hospital Center.

"Four percent of adults suffer from sleep apnea, and with childhood obesity on the rise, more of our pediatric patients are suffering from it as well. In fact, nearly half of our patients are children," said Dr. Samir Fahmy, Medical Director of the KCHC Sleep Disorder Lab. "Parents and caregivers need to be on the lookout for signs such as poor performance in school, hyperactivity and excessive daytime sleepiness."

The Lab specializes in conducting sleep studies to monitor and diagnose sleep disorders and recommend a course for treatment. Patients show up with toothbrush, pajamas, their own pillow -- or even a favorite teddy bear -- and are hooked to monitors before they begin their normal bedtime routine, sometimes watching TV or reading until they fall asleep. Once the patient is in the land of nod, breathing, brainwaves and physical movements are monitored and recorded. A certified polysomographer then scores this electronic record for a board-certified sleep disorder physician who diagnoses the patient's condition.
Dr. Samir Fahmy, Medical Director of the KCHC Sleep Disorder Lab

"More of our patients are being diagnosed with sleep disorders," says Dr. Fahmy. "And sleep problems can become very serious health issues. For example, there is a correlation between obstructive sleep apnea (OSA) and diabetes, hypertension, and congestive heart failure – chronic diseases that are very common among our patients."

Factors that put patients at increased risk for OSA are excess weight and neck circumference, a narrow airway, chronic nasal congestion, and smoking. Men are at greater risk, especially when over 65, as are patients who are black, Hispanic or a Pacific Islander. Women are at greater risk after menopause.

Since 2004, the KCH Sleep Lab has accommodated about 40 patients per month. The expansion has tripled its size to six beds and 7,000 square feet. The new bedroom suites each have soothing names like "Tranquility" and "Dreamcatcher." By the end of 2008, the Sleep Lab will be fully staffed to diagnose sleep disorders for as many as 1,200 to 1,400 patients annually.

Dr. Fahmy says certain sleep disorders are worse during particular stages of sleep and the observation can reveal when the sleep process is interrupted. Based on the results, Dr. Fahmy knows just how many ZZZ's his patients aren't catching at night and can recommend some possible solutions, like Continuous Positive Airway Pressure (CPAP) therapy, which pumps air into a nasal mask, gently opening the patient's throat and breathing passages, allowing normal breathing through the nose during sleep.

The recent expansion has made the Kings County Hospital Sleep Disorder Center the largest sleep lab in the HHC system. Sleepless New Yorkers can also go to sleep lab facilities at Bellevue Hospital in Manhattan, Jacobi Medical Center and North Central Bronx Hospital in the Bronx, and Queens Hospital.

February 2008