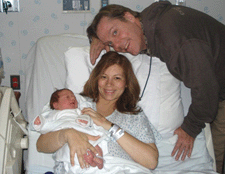 Isabella Sophia with parents Yvonne Daza and Stuart Sears
Each year nearly 23,000 babies are born in HHC hospitals, where new state-of-the art delivery facilities offer families top quality care in calm and beautiful surroundings. So it's no surprise that public hospitals would play host to two of the first babies born in New York.
When Isabella Sophia Sears made her entrance into the world in Elmhurst Hospital at the stroke of midnight, her parents were more focused on having a safe delivery than giving birth to New York City's New Year baby. Much to their surprise their new 8 pound, 12 oz. redhead daughter was greeted by cheering doctors and nurses and a festive toast with sparkling grape juice.
Isabella's mother, Yvonne Daza, came to the hospital with her husband Stuart Sears for a routine checkup that afternoon. She never imagined then that she and her new daughter, her fourth child, would be in the city spotlight so soon. To top off the proud moment, Queens City Councilmember Helen Sears, was on hand to welcome her 8 lbs., 12 oz. granddaughter.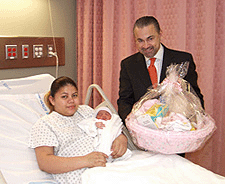 Ashley Nicole Martinez Torres with mother Gisela Torres and Lincoln Hospital Sr. VP José Sánchez
Meanwhile, only a few minutes later, at 12:22, Ashley Nicole Martinez Torres was born at Lincoln Medical and Mental Health Center, the first baby born in the Bronx. Ashley's parents Gisela Torres and Luis Alberto Martinez were happy that she was the first born in the borough, but mostly thrilled that she is healthy.
HHC is continually modernizing facilities and during the past six years has updated its birthing services at Harlem, Jacobi, Kings County, Lincoln, Queens and Woodhull Hospitals. Many of the HHC birthing centers include relaxing amenities for mothers-to-be like Jacuzzis and homelike rooms where mothers can include extended family during the birth of their new arrivals.
One thing's sure -- the proud parents of this year's New Year babies will be basking in the joys brought by their new arrivals for some time to come.
"Every New Year's Eve we will have a double celebration," said Ashley Nicole's proud father. "She is the best thing that has happened to us."
| | |
| --- | --- |
| | |
| Homelike birthing rooms at Bellevue Hospital feature a Jacuzzi to relax mothers-in-waiting. | Elegance and hospitality distinguish Harlem Hospital's birthing suites, where a mother can include extended family during the birth of her new arrival. |
January 2008