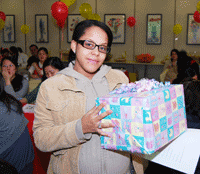 An expecting mother receives a baby shower gift at Gouverneur.
Maternity fashion show models at Lincoln Hospital.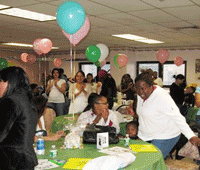 Baby shower at Bellevue Hospital.

Mother's Day may be just around the corner, but babies are delivered every day at HHC hospitals -- more than 23,000 babies in 2008. Throughout the year HHC facilities celebrate the impending births with baby showers and other events for mothers-to-be receiving prenatal care in HHC hospitals and health centers.
Friends and families are welcome to attend the festive events, where the pregnant moms receive baby gifts and learn more about the services available for them and their child, before, during and after birth. Information is also available on a variety of topics, such as nutrition, breastfeeding, newborn care, and postpartum depression. Guests also are introduced to the social services available at HHC, pediatric services for their children, and HHC health plans that can provide health insurance for their families. Click to learn more about HHC prenatal care programs and birthing centers.
April 2009