New Hope for Patients with Diabetes and Multiple Sclerosis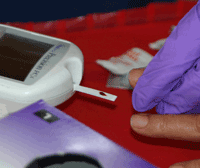 Bronx residents get excellent care and education to manage chronic diabetes at Lincoln Hospital Diabetes Center of Excellence.


Both diabetes and Multiple Sclerosis (MS) are diseases that have a severe impact on the lives of patients and their families. Although there has been great progress in the diagnosis and treatment of both diseases, many cases can be difficult to treat and often patients have to seek specialized centers for treatment.   Patients with these diseases can now get state-of-the art treatment in two newly designated HHC specialty centers of care. 
Lincoln Medical and Mental Health Center in the Bronx has been designated as a Diabetes Center of Excellence by the American Diabetes Association (ADA), the largest and most widely recognized professional organization in the field of diabetes.
"There are only two other recognized diabetes education programs in the Bronx," according to Lorena Drago, Senior Associate Director at Lincoln Hospital. "What makes our Diabetes Center unique is that it offers both a bilingual instructional staff and a bilingual teaching curriculum.  We provide education that incorporates culturally influenced health beliefs, attitudes and practices.  We also have four times the number of nutrition classes offered by other diabetes education programs."
Harlem Hospital has received certification as a MS Infusion Center for Tysabri, a drug for patients whose MS is not responding well to conventional treatments.  This state-of-the-art drug is otherwise only available at major academic medical centers.
"Tysabri is a prescription medicine approved for patients with relapsing forms of MS," explained Olajide Williams, M.D., Associate Director of Neurology at Harlem Hospital. "It has been shown to slow the worsening of disability that is common in patients with MS and decrease the number of flare-ups.  Because of the potential for severe side effects, only certified Centers can administer this medication. I am very pleased that Harlem Hospital is able to offer our MS patients expanded access to this specialty drug and the ability to get the care closer to home."
According to Dr. Williams, the staff has been encouraged by the results from the new treatment.  In the short time since the hospital was approved to use the drug, one of the patients, who was confined to a wheelchair, is now able to walk.
Although Multiple Sclerosis is rarer in African-Americans than Caucasians, it affects them more severely. A study in the July 2007 issue of the journal Neurology, the medical journal of the American Academy of Neurology, found differences in the immune systems of African Americans with multiple sclerosis compared to Caucasians, which may explain why African Americans experience more disability with MS than Caucasians.

April 2008