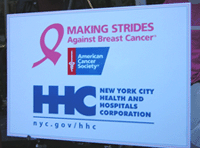 The numbers are in for this year's Making Strides Against Breast Cancer campaign, and the news has taken even the most optimistic team leaders by surprise -- volunteers from HHC facilities across the city raised an incredible $260,000 during the American Cancer Society's walk this year, doubling the amount raised just two years ago. HHC employees, with their friends and families, turned out a combined total of nearly 1,000 walkers for events in each of the five boroughs of New York City. New York City public hospital workers bring compassionate care to cancer patients every day and once again have demonstrated their commitment to work for a cure for this devastating disease.
| | |
| --- | --- |
| | |
| HHC Health & Home Care Executive Director Ann Frisch speaks at Making Strides Against Breast Cancer walk. | Staff at facilities like Metropolitan Hospital came together to walk as a team. |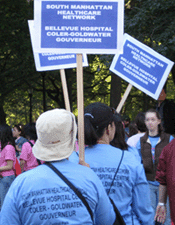 The South Manhattan Healthcare Network walked to show their support in the fight against the disease.