MetroPlus Joins NY State Health Exchange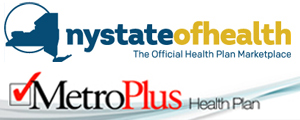 HHC's Managed Care health plan MetroPlus has been accepted as one of the insurance providers to offer coverage under the New York State Health Benefits Exchange, recently named the "NY State of Health." The exchange -- a marketplace for health insurance plans -- is set to open for enrollment on Oct. 1 to uninsured individuals and small business owners with fewer than 50 employees as part of the federal Affordable Care Act. The state projects it will enroll 1.1 million New Yorkers.
MetroPlus and the other insurance participants will offer four tiers of coverage with an array of services, from doctors' visits to hospital stays to prescription drugs. Metroplus will also offer additional benefits such as adult dental and vision coverage. Individuals and families with incomes below certain levels -- $45,960 for individuals and $94,200 for a family of four -- may be eligible for federal tax credits through the exchange. Training is underway for hundreds of navigators, brokers and customer service specialists who will walk consumers through the enrollment process. They'll start taking questions in mid-September.
To learn more, visit www.nystateofhealth.ny.gov.