Mark White
In the pediatric unit of Harlem Hospital, social worker Mark White was trying to help a mother cope with the fact that her daughter had overdosed on drugs. The girl had recovered, but now White had to prepare the mother for the daughter's discharge from the hospital and return home.
"The mother was devastated and confused and wanted to know why her daughter had done it," said White, the Coordinating Manager of Child Protection in the Social Work Department at Harlem Hospital. "I brought a pen and paper and drew a family tree with her to try to understand the situation in her family."
That exercise is all part of the social worker's process of evaluating, assessing and placing patients in treatment and counseling after they are discharged from the hospital so they continue to get care after their immediate medical needs are met. By working with the mother as well as the daughter, White and his team were able to assure a better transition to the home environment for the daughter and to better prepare the mother in her role as caregiver.
"We treat people like our own family," White said. "And that means we take the time to listen in the midst of a generally hectic environment."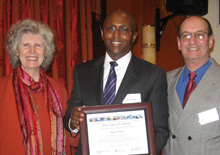 Dr. Patricia Brownell, Mark White and Dr. Robert Schachter
In December, White, 39, was among 16  recipients under age 40 honored by the New York City Chapter of the National Association of Social Workers (NASW) for their exemplary work ethic and dedication to the profession. White is the first HHC representative to receive this recognition in the award's three-year history, and the only recipient this year to come from a health care setting.
"I felt very humbled," White said of the award. "I was also very motivated after I received it. It made me more focused on becoming a good mentor, and made me think about the importance of leaving a strong legacy that will equip future generations to provide the best service they can."
 
White was hired as a social work supervisor at Harlem Hospital in 2006 and was promoted the following year. He oversees the in-patient pediatric service, the OB/GYN service and the out-patient services for high risk pregnancies where he serves patients to ease the transition from hospital to home.
"What's special about Mark is that he's in synch with the values of health care, HHC, and the social work profession," said Fran Gautieri, chair of the NASW NYC Taskforce on Social Work in Hospitals and a former HHC hospital social work director.
Prior to joining HHC, he worked at the Jewish Child Care Association of New York for 12 years. He is also an assistant adjunct professor at Hunter College School of Social Work.
"Mark is not a complacent person," said his wife Christina, a social worker at North Central Bronx Hospital. "He is not satisfied with letting it become a nine-to-five job. He will go above and beyond for the patients he comes into contact with."

January 2010