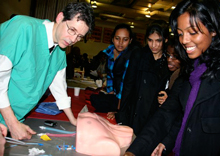 Benny Turner of the IMSAL team shows students how to place a central line in a patient.
New York City high school students got a chance to play doctor at the Yes I Can Be a Healthcare Professional Conference hosted by the Mentoring in Medicine program this month. The students placed central lines, intubated a patient and performed chest compressions on a patient suffering from cardiac arrest – all thanks to high-tech mannequins and the encouragement of Dr. Haru Okuda and his team from HHC's Institute for Medical Simulation and Advanced Learning (IMSAL).
More than 2,000 people attended the annual event on Dec. 5th at the Frederick Douglass Academy in Harlem. Dr. Okuda was joined by several other HHC physicians from Jacobi and Elmhurst hospitals and several mannequins from the simulation center.
"The idea is to get teenagers interested in the medical professions and to have them start preparing now to get the tools they need to succeed, academically and personally," Dr. Okuda said.

December 2009