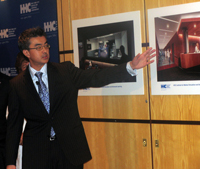 Dr. Haru Okuda, Director of the HHC Institute for Medical Simulation and Advanced Learning.
Like airline pilots, HHC doctors and nurses will be using the most advanced simulation training technology to improve safety when the HHC Institute for Medical Simulation and Advanced Learning opens at Jacobi Medical Center in Fall 2010. Dr. Haru Okuda, Director of the Institute, talks about the power of simulation training and how it helps build high performing clinical teams.
What role does simulation training play in healthcare?
No one would think to train football players individually and then bring the entire team together for the first time to play at the Super Bowl. Right? Emergency teams are often in a similar situation. Doctors and nurses are trained as individuals who then are expected to make life saving decisions and perform skills as a team under high pressure conditions. Simulation training allows the entire team to practice, perfect and master procedures and communication skills without risk to patients.
How can computer-based simulation help reduce medical errors?
Simulation certainly helps refine the technical skills of individual doctors and nurses. But, it does much more. We know that nearly 70% of medical errors in hospitals occur partly as a result of failures in communication and coordinating among clinical team members during the delivery of care. In simulation training, the actions and responses of the entire clinical team can be recorded and critiqued to measure how successfully they have completed the complex tasks together. It's really all about training individuals to better function as members of high performing teams.
What will be unique about the HHC simulation center?
We are modeling our facility and curriculum after similar medical learning centers at Harvard University, the Mayo Clinic and North Shore LIJ. Ours will be unique because we'll have all the latest technology, equipment and curriculum under one roof. We'll be training our own front line staff rather than medical students, as most of other simulation programs do. And, we'll be training nurses alongside doctors. That promises that make a huge impact in improving communications and building really effective teams.
How many high fidelity, computer generated mannequins will you have?
We'll have 9 adult mannequins that have heartbeats, breath, sweat, and can even talk through remote microphones used by the instructors. We will also have two birthing mothers that actually deliver babies to simulate breach births and other challenging obstetrical emergencies. The rest of our simulated family includes two infants and one 5 year old child for practicing pediatric trauma and critical care.
What are the special features of the new facility?
The new 10,000 square foot facility will replicate emergency rooms, operating rooms and other patient care settings. Each of these simulated rooms will be fully connected with a high tech, digital audio-visual system that transmits and records practice scenarios that are reviewed by the participants to reflect on what worked, what went wrong and what can be done better the next time. That's when the learning really takes place.
Where do 'standardized patients' get their training?
Standardized patients will be a critical part of our training curriculum. These specially trained actors role play as patients and family members to help the clinical teams refine communication and interpersonal skills. They will ultimately be trained by our staff within the center.
What are Sim Wars?
That's an American-Idol style program I developed to have medical residents compete in simulation scenarios in front of a large audience. We have a panel of expert judges who give input and the audience gets to vote. The program has been featured in a number of national and international simulation conferences. And I can't wait to host the HHC Sim Wars – so stay tuned.

December 2009