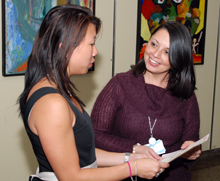 Susana Torino, right, a graduate of the new interpreter program, confers with Fern Chan, the project coordinator from Hostos Community College.
When Susana Torino first came to the U.S. 19 years ago, she spoke no English.  The first time her daughter got sick, she had great difficulty communicating with the doctor and resolved to make it easier for others.
"I tried to communicate over the phone with the doctor using a Spanish-English dictionary and paper and pen," recalled Torino, who painstakingly found the words in the dictionary, wrote them out on paper and read them to the doctor to explain what was wrong with her child.
On Dec. 9, Torino was among 20 New Yorkers who made up the first graduating class of the HHC and City University of New York (CUNY) Healthcare Interpreter Program, which trains bilingual and multilingual students to serve as hospital interpreters who help limited-English speakers navigate the complex healthcare system.
"I know how important it is to have a trained healthcare interpreter available because I've been there" said Torino, a Childlife Specialist at Bellevue Hospital Center.
The newly-trained interpreters, who speak Spanish or Polish, received healthcare interpreter certificates at a graduation ceremony at Harlem Hospital Center. Future classes will be offered in other languages. CUNY anticipates that 100 people will be trained as interpreters each year.
"Language and cultural barriers in health care settings can negatively affect access to quality care for patients with limited English language skills," said Ramanathan Raju, HHC Executive Vice President and Chief Medical Officer. "Having professionally trained HHC medical interpreters improves patient care, safety and access to care."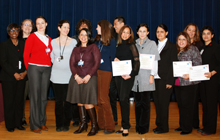 Members of the first graduating class of the HHC-CUNY Healthcare Interpreter Program.
There are 140 languages spoken in New York City and nearly 50 percent of the city's 8.2 million residents speak a language other than English. The new certificate program was developed by the HHC Center for Culturally and Linguistically Appropriate Services (CLAS) and other members of the CUNY Advisory Board, which has representatives from all sectors of the New York City interpretation community. They joined together to meet the increasing need for highly qualified on-site interpreting services at HHC facilities and other hospitals. This collaboration sets a new standard for how interpreters are trained to manage complex communications in healthcare settings.
The interpreters are a mix of current HHC employees and CUNY students who successfully completed a curriculum that focuses on interpreting clinical information, recognizing and dealing with ethical issues and cultural conflicts, and clinicians' roles and expectations. Students learn medical vocabulary and use role-playing exercises to master interpreting skills that emphasize accuracy, which is essential for patient safety. The interpreting skills taught in the program meet the criteria established by the Standards of Practice of the International Medical Interpreters Association and the Code of Ethics of the National Council on Interpreting in Healthcare.
The Healthcare Interpreter Program is the most recent addition to HHC's extensive language access services, which include telephonic interpreter services, print and electronic publications available in 12 languages, and multilingual signage at facilities. All of these services enable HHC medical staff to better communicate with and serve New York City's culturally and linguistically diverse patient population.

December 2009